WEST JORDAN, Utah, Dec. 23, 2016 (Gephardt Daily) — Dozens of area families will have a brighter — and warmer — holiday season thanks to the combined efforts of the Unified Police Department and the generosity of a number of local businesses.
Unified for Families — the brainchild of the Unified Police — was designed to provide the families in need with the kind of gifts that will immediately make their lives better, providing desperately needed items like winter coats, boots, shoes, socks, and underwear.
But the warmth of the holiday gift giving doesn't end there, as a number of area businesses — in coordination with Gephardt Daily — have agreed to help families in need throughout the new year.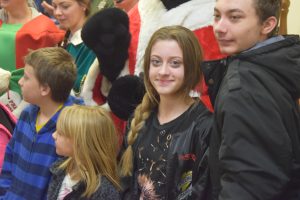 One of those businesses, Black Diamond Service Experts, will donate and install roughly $25,000 in furnace and water heaters for local families that are struggling to make ends meet. Owner Dan James says he's humbled and grateful to be in a position where he can lend a hand.
"It's difficult to see people struggle, especially when it comes to staying warm," James said. "Furnaces and water heater are expensive to replace or repair. People simply may not have the funds and need heat — and that's where I can help."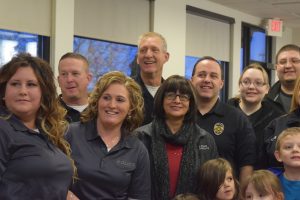 Unified Police officers will help Black Diamond locate families facing the most dire needs, just as they found families who took part in Unified for Families shopping spree. Last Saturday, more than a dozen kids and parents were treated to a pre-shopping breakfast party at the Chick-fil-A in Jordan Landing, where they were greeted by more than a dozen UPD officers, including Salt Lake County Sheriff Jim Winder.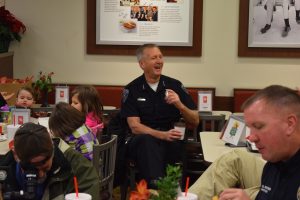 The children were also met by an eager crew of Chick-fil-A employees who showed up early to prep for the party while decked out in their fanciest holiday duds. A famed Chick-fil-A cow, cast in the role of a bovine St. Nick, joined in the festivities.
"This is what it's all about," Winder said, smiling. "In law enforcement, in public safety work, the goal is to try and improve the condition of your community. The Christmas season is a season of giving. We try and do that all year, but this is a very special opportunity."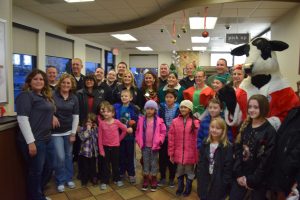 After breakfast, the families were escorted via police convoy to the nearby Old Navy and Famous Footwear stores where each child was allotted $200 thanks to cash donations made by local businesses. Both stores then helped families double their purchasing power by providing deep discounts. As a result, each child was able to head home with nearly $400 worth of quality, desperately needed clothing and footwear to get though the winter months and beyond.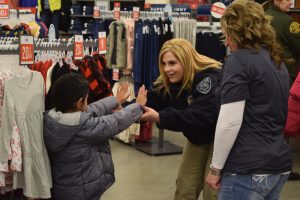 Trish Chidester, a district manager for Old Navy, said seeing the reaction from grateful families made the day's efforts worthwhile.
"To be able to see these people who are not so fortunate benefit from the generosity of the community and the police department — it's hard not to get emotional about it."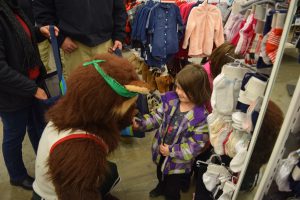 Other local companies lending a hand to the Unified for Families project include ESCO Heating and Air, which is donating and installing a water heating system to a family in need, and Mattress Warehouse, which is providing mattress sets for children.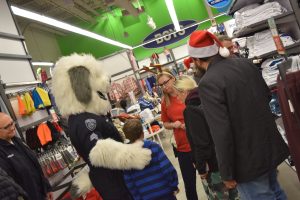 Officers from Unified Police and the Unified Fire Authority helped kids pick out clothes during the holiday shopping spree. There were lots of giggles, hugs and high-fives as officers and firefighters were joined by a fun loving team of local mascots, led by Unified PD's top dog, Sgt. Siren. Bumble the Bee from the Salt Lake Bees and Willie the Wolverine from Utah Valley University also made the scene, keeping the mood upbeat and the families entertained.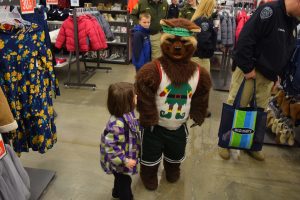 Local business also raised nearly $3,000 in cash courtesy of a GoFundMe account established for the Unified for Families project by Gephardt Daily.
Those wishing to donate to future Unified Police community projects can donate throughout the year to the account established for Unified for Families.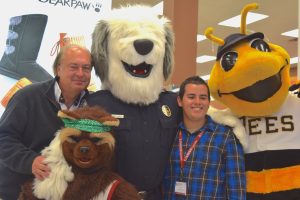 *Black Diamond Expert Services, ESCO Heating and Air, and Mattress Warehouse are clients of Gephardt Approved, parent company of Gephardt Daily.
Unified for Families 2017