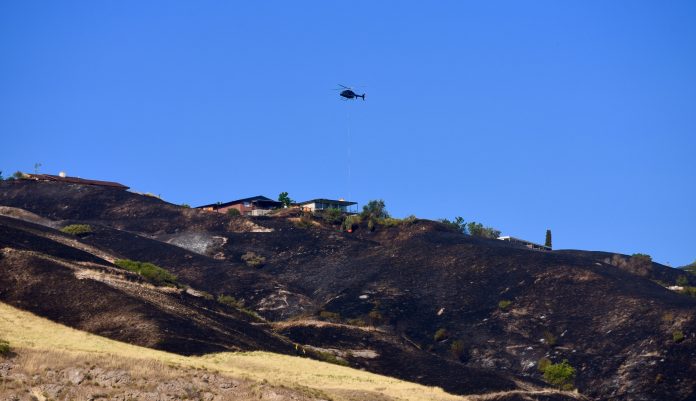 SALT LAKE CITY, Utah, July 25, 2018 (Gephardt Daily) — Three Salt Lake City firefighters and 2 civilians were injured Tuesday when a fast-moving brush fire threatened dozens of homes north of the Utah State Capitol.
Investigators say the fire broke out about 3 p.m. with a point of origin near the head of the Ensign Peak Trail at 690 N. Columbus St.
Fueled by dry grass, gusting winds and near one-hundred degree temperatures the fire made a dramatic run, coming within a few yards of homes and prompting evacuations.
According to a statement by the Salt Lake City Fire Department commanders quickly designated the blaze a 3-alarm fire and within minutes crews were aggressively putting water directly on the flames.
Calls for additional help were made to the Department of Natural Resources and U.S. Forest Service who provided water drops from helicopters.
Despite its intensity, the fire was 95 percent contained within 3 hours, but during that time a home was damaged, 100 acres hundred burned and 5 people were injured.
Two of 3 firefighters were overcome by heat and smoke inhalation, while another suffered a leg injury. All 3 were treated and released from University Hospital.
Two civilians were also treated for smoke inhalation. Their names and conditions however were not divulged.
An estimated 50 to 60 firefighters took part in knocking down the fire.
Administrators lauded their first-time use of portable water storage units known as "pumpkin tanks." The tanks were only recently purchased as part of an expanded initiative to fight wildfires in and around Salt Lake City.
The cause of the blaze has yet to be determined.