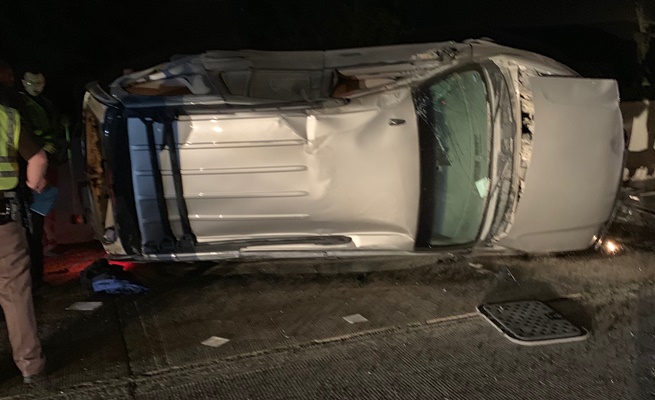 SALT LAKE CITY, Utah, Aug. 24, 2019 (Gephardt Daily) — A man was killed when the vehicle he was driving drifted on Interstate 15 early Saturday morning.
Utah Highway Patrol issued a news release about the 1:45 a.m. crash, saying the man was driving a silver SUV northbound on the I-15 collector near 1500 South.
He was the SUV's only occupant and wasn't wearing a seat belt.
He drifted left and side-swiped the concrete barrier on the left side of the collector ramp, and then over-corrected to the right and hit the right concrete barrier.
At that point, the SUV overturned, ejecting the unrestrained driver, who died on scene of his injuries.
"Troopers found evidence of alcohol and drug impairment on scene and believe impairment played a role in the collision," the news release states. "Troopers also noted the minimal damage to the passenger compartment of the vehicle and believe it is probable the driver would have survived the collision had he been properly restrained."
The collector ramp is closed while troopers investigate the crash.
The driver's name is not being released, pending notification of family members.
The news release concludes:
This crash is a tragic example of the dangers of both impaired driving and being inside a vehicle without properly wearing a seat belt or child restraint. Troopers would remind all drivers to never get behind the wheel when under the influence of any drug or alcohol. We would also remind all occupants in a vehicle to buckle up, every trip, every time. Your safety is largely in your own hands.