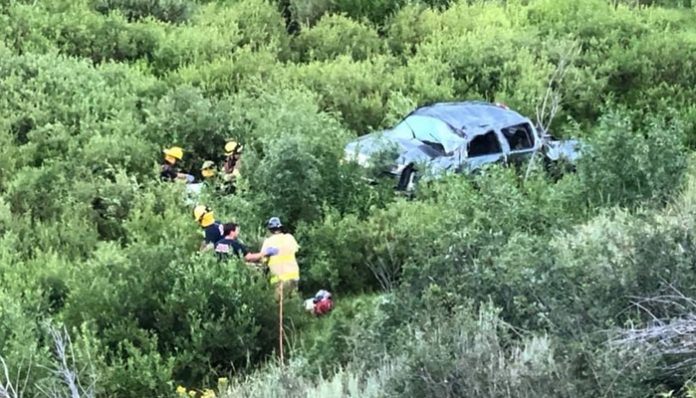 WEBER COUNTY, Utah, July 21, 2019 (Gephardt Daily) — Officials have identified two men who were killed when the pickup truck they were in left a rural mountain roadway and rolled hundreds of feet down a steep embankment early Saturday morning.
According to a press release issued by the Weber County Sheriff's Office, the deceased are Manuel "Tony" Lopez, 49, and Leon Hoang, 25.
A previous news release said dispatchers received a 911 call about 4:41 a.m. reporting a single-vehicle accident in the Sunridge Estates, near 7000 N. Middle Fork Drive.
When deputies arrived, they found the vehicle in heavy brush and timber 160 feet from the road. First responders also found a total of seven victims, between the ages of 16 and 50 years old, all of whom were ejected from the truck when it rolled down the hillside.
Two of those victims died at the scene, while two others, initially reported in extremely critical condition, where flown from the crash site by medical helicopters.
Three others were taken to area hospitals by ground ambulance. They were reported to have minor injuries.
The status of the patients at the hospital is not known as of Sunday afternoon, officials said.
Crime scene investigators dispatched to the accident site say preliminary findings indicate impaired driving may be a factor in the case.
The news release late Sunday afternoon added: "The Weber County Sheriff's Office would like to express our condolences to the family and friends of both men."
No further details are available as the cause of the accident is still under investigation.
Gephardt Daily will update the story as more information becomes available.