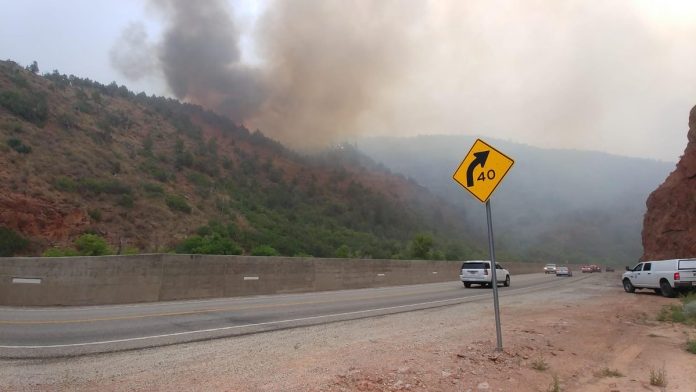 UTAH COUNTY, Utah, Aug. 12, 2018 (Gephardt Daily) — U.S. Highway 6 was shut down in the area of the Coal Hollow Fire on Sunday afternoon, and as of Sunday night is closed from Diamond Fork to Tucker (milepost 185 to milepost 203).
The fire jumped Highway 6, and evacuations are in place for all of Diamond Fork up to Springville Crossing, and east to Sheep Creek Road. These evacuations will be in effect until at least later Monday, according to a tweet from Sgt. Spencer Cannon, with the Utah County Sheriff's Office.
The lightning-caused Coal Hollow Fire, which started Aug. 4 in southeast Utah County near State Route 6 and Dairy Fork, has grown to nearly 19,360 acres. The fire is 4 percent contained.
A total of 395 personnel are assigned to the fire, with more resources arriving, according to the Utah Fire Info website. Already assigned to the fire are four Type 1 hand crews, four Type 2 hand crews, 20 engines, three dozers, six water tenders, four helicopters, two CL-415 Scoopers, two air attack platforms and overhead/support personnel.
The Utah Fire Info website reminds the public to use extreme caution when traveling along Highway 6, when it reopens, and Highway 89. "Heavy fire traffic should be expected and smoke may, at times, reduce visibility," the update said. "Speed limits have been reduced to 45 mph along Highway 6 in the fire vicinity."
Evacuations and closures are still in effect for the Coal Hollow Fire, and Sept. 1 is currently the estimated date for containment.
Gephardt Daily will have more on this story as information is made available.