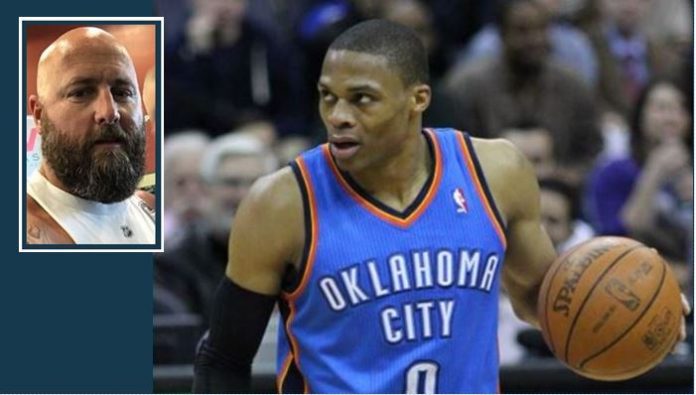 SALT LAKE CITY, Utah, March 12, 2019 (Gephardt Daily) — The Utah Jazz banned a fan for life after he reportedly taunted Oklahoma City Thunder player Russell Westbrook Monday during a game in Salt Lake City.
Westbrook responded, and the exchange became heated. Westbrook told reporters the fan said "get down on your knees like you're used to," which Westbrook considered to be a racially inspired comment.
Westbrook admits he threatened the fan. A video of the encounter shows Westbrook saying "I promise you. You think I'm playing? I swear to God. I swear to God. I'll **** you up. You and your wife. I'll **** you up."
The NBA announced Tuesday that Westbrook has been fined $25,000 for "directing profanity and threatening language to a fan."
Also on Tuesday afternoon, the Utah Jazz and Larry H. Miller Group announced a permanent ban of fan, Shane Keisel, who the Jazz says verbally abused Westbrook Monday night at Vivint Smart Home Arena.
"The ban is effective immediately and includes all arena events," a prepared statement said. "The organization conducted an investigation through video review and eyewitness accounts. The ban is based on excessive and derogatory verbal abuse directed at a player during the game that violated the NBA Code of Conduct.
"The Utah Jazz will not tolerate fans who act inappropriately. There is no place in our game for personal attacks or disrespect.
"Everyone deserves the opportunity to enjoy and play the game in a safe, positive and inclusive environment," said Steve Starks, president of the Utah Jazz. "Offensive and abusive behavior does not reflect the values of the Miller family, our organization and the community. We all have a responsibility to respect the game of basketball and, more importantly, each other as human beings. This has always been a hallmark of our incredible fan base and should forever be our standard moving forward."
Utah Jazz guard Donovan Mitchell also tweeted a response to what happened.
"I am personally hurt by the incident at the game on March 11," he wrote. "As a black man living in a community I love, and playing on a team that gives me the opportunity to live out my dreams, this incident hits close to home. Racism and hate speech hurts us all, and this is not the first time something like this has happened. The Utah that I have come to love is welcoming and inclusive, and last night's incident is not indicative of our fanbase. We don't want to create a negative reputation for athletes who potentially may want to come to Utah.
"I want to thank my team and the NBA for quickly responding to this hateful incident, and for helping to make our arena a place where all fans and players are welcome. I join other players in calling for all teams to take a stand. We should not be subject to hate speech or racist acts at any time, and definitely not in our arenas."
Keisel, a former Utah Highway Patrol employee, maintains he did nothing wrong.
In an interview after the game he told reporters that what at first seemed like a good natured exchange took an ominous turn when he told Westbrook, to quote, "Sit down and ice your knees, bro."
He said it was then that Westbrook threatened him and his wife.
"He can threaten me all he wants," Keisel said. "I was the one talking to him, but don't threaten a woman. She's five feet tall and 110 pounds, man. Never said a word to him. Her first NBA game ever. Welcome to the NBA, Jen."