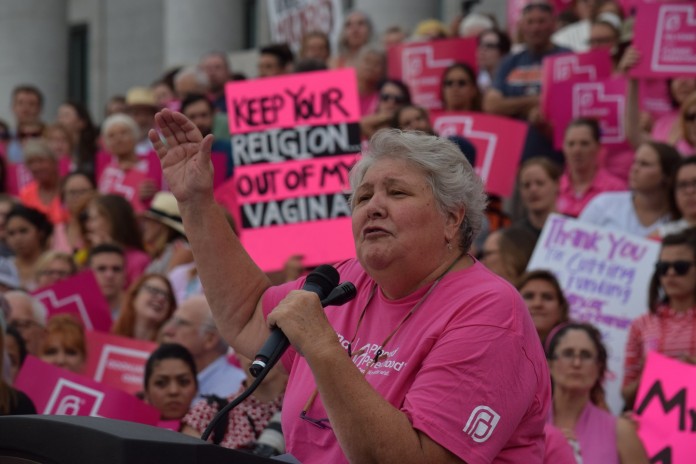 SALT LAKE CITY, Utah, Aug. 17, 2016 (Gephardt Daily) — A Utah federal judge on Wednesday removed himself from the controversial case challenging Utah Gov. Gary Herbert's decision to cut off federal pass-through funds to the Planned Parenthood Association of Utah.
U.S. District Judge Clark Waddoups gave no explanation for the court filing to recuse himself from the case and have it reassigned to another judge. Judge Dee Benson now will take on the case.
Waddoups had made two key rulings in the ongoing case.
• In October of last year, he ruled that Utah's payments to Planned Parenthood of Utah should continue through the end of the calendar year rather than stopping abruptly.
• And on Dec. 22, Waddoups ruled that Herbert had the right to stop federal pass-through funds from going to PPAU.
On Dec. 30, the 10th U.S. Circuit Court of Appeals, in Denver, granted a temporary injunction to prevent Herbert from cutting off funds to PPAU. And on July 12, the 10th U.S. Circuit Court of Appeals, in Denver, reversed a Waddoups' December decision.
The July decision means that Planned Parenthood of Utah will get the $272,000 in federal funding previously received by Utah to be allocated to a non-profit health organization unless the decision of the initial appeal rules otherwise.
The case was spurred by Herbert's Aug. 14, 2015 executive order to prohibit state agencies from distributing federal money to Planned Parenthood. In a news release, Herbert said his decision was motivated, at least in part, by an undercover video shot by anti-abortion activist at a Texas Planned Parenthood office.
The video suggested Planned Parenthood of Texas profited from the illegal sale of aborted fetuses. An investigation of that case found charges unwarranted, but one of the filmmakers was charged with offering to illegally buy fetal tissue as part of his ruse. Charges were later dropped.