CENTERVILLE, Utah, July 18, 2016 (Gephardt Daily) — A Centerville woman who suffers from lupus and painful arthritis said she is still reeling after finding a nasty note stuck to her car in the parking lot of a local pharmacy.
Janna Kay Jensen said she stopped at her local Walmart around 1 p.m. Monday, and went inside the store to the pharmacy. When she returned, someone had left her a note swearing at her for not being handicapped.
"Ass***e. You are not handicapped, my husband is and we can hardly find spots to park because of inconsiderate people like you," read the note. "Thanks for your inconsideration."
Jensen was so upset over the note she took to social media to express her feelings over the incident.
"For those of you that don't know, I am legally disabled and have been since I was 22. I have lupus, and one of the great joys in my life is the arthritis that I have in almost every joint in my body," Jensen said in the post.
"Every step I take is painful, but I still hike, bike, and, yes, even run when I can."
Jensen said Monday was one of those days that she decided park just a little closer to the entrance because sometimes saving a few steps makes a big difference.
"I was diagnosed with lupus when I was 12, but didn't become legally disabled until I was 22 because the arthritis had gotten so bad I have difficulty walking," Jensen told Gephardt Daily.
"I have actual handicap plates, not just a placard, as I am permanently disabled."
Jensen said she tries to stay active, because the more active she stays, the fewer and less painful her flare ups become.
"I guess I don't look the part," Jensen goes on in her post.
"Not everyone who is disabled is in a wheelchair or uses a walker. For this woman to try to shame me for using a parking spot designated for people like me is despicable."
Notes like the one Jensen found on her car are not uncommon. People often leave notes expressing their opinions if they believe someone who is not disabled has parked in one of the spots designated for those who are.
In June, a similar note was left on Ethan Schlemer's car, parked at a Walmart in Timnath, Colo. Schlemer walks with the use of a prosthetic leg since an above-the-knee amputation a couple years back, a result of his battle with cancer.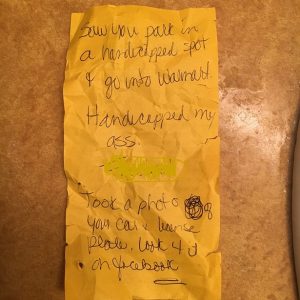 "I was taking my handicap placard off of my rear view mirror when I found this lovely little note on my windshield," Schlemer said in a post on his Facebook page.
"If you guys see my car on FB, please tell them thanks for the compliment. I guess I must be doing something right if people can't tell I'm handicapped."
Jensen said she doesn't think anyone should ever presume to know what others struggle with.
"Not all disabilities are visible," Jensen said.