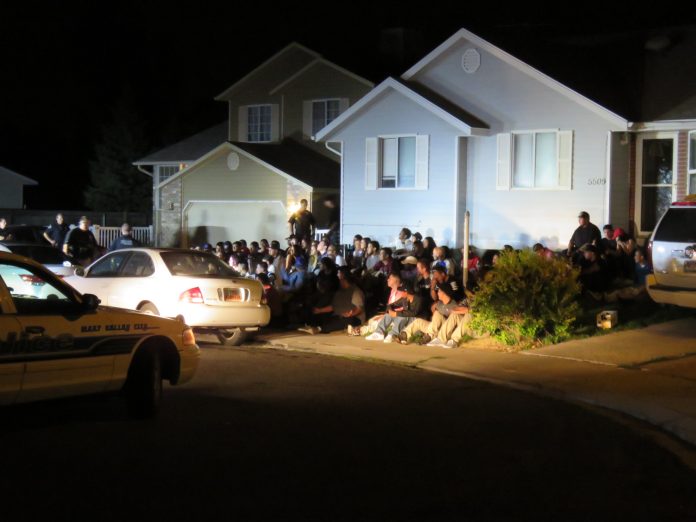 WEST VALLEY CITY, Utah, July 31, 2016 (Gephardt  Daily) — A neighbor's call about a loud party early Sunday morning led West Valley Police to a gathering where more than 50 juveniles and 40 adults reportedly were using multiple varieties of illegal drugs, and the youths illegally imbibing alcohol.
"We had probably 20 guys (officers)," said Lt. Steve Burke, West Valley City Police Department. Usually, when we get things going, it's a pretty well-oiled machine. We have people to identify, people to have them (party attendees) blow into a breath tester. We have guys that can handle citations and referrals.
"For lack of a better term, it's kind of like an assembly line."
The call came in at 12:39 a.m., and officers responded to the scene.
"Upon arrival, we found a large group of people in and around the house. We attempted contact, and when we attempted contact, people started fleeing out of the house," Burke said.
"We got officers in the area to pretty much lock down the area. We went inside. For officer safety, we went inside, brought everybody outside."
Once everyone was out, officers found a couple of firearms on the ground, and they found marijuana paraphernalia and possible drugs in front of the house.
"I don't know that it's been tested yet, but it was a white powder substance, so it's going to be either meth or cocaine," Burke said.
Most at the party seemed to be between ages 17 and 30, he said.
"If they're under 21, we usually look at them, and if they look like they've been consuming alcohol or something, then we have a breath tester," Burke said. "If they're 18, 19, 20, then we usually write them a ticket and send them away. If they're under 18, we'll refer them to juvenile court and have a parent come pick them up."
Parents were not happy when they arrived.
"No, they're usually not," Burke said. "It's part of being a parent, though. I've done this for quite a while, and you get a mix where they (parents) are angry at police or they're angry at the kids. We just can't let them (juveniles) walk on the streets, so we need to get mom and dad out of bed and let them be parents."
Two West Valley City brothers were arrested in connection with the weekend drug bust, which was at their family residence.
According to arrest fact sheets from the Salt Lake County Sheriff's Office Correction Bureau, "dozens of underage subjects tested positive for alcohol."
The arrest fact sheets stated that Christian J. Alvarez, 20, and Edwin A. Alvarez, age unspecified, have each been booked on one count each of reckless endangerment; use or possession of a drug; and selling, offering or furnishing an alcoholic product.
In addition, Edwin Alvarez faces a charge of possession of more than one ounce of marijuana or spice.