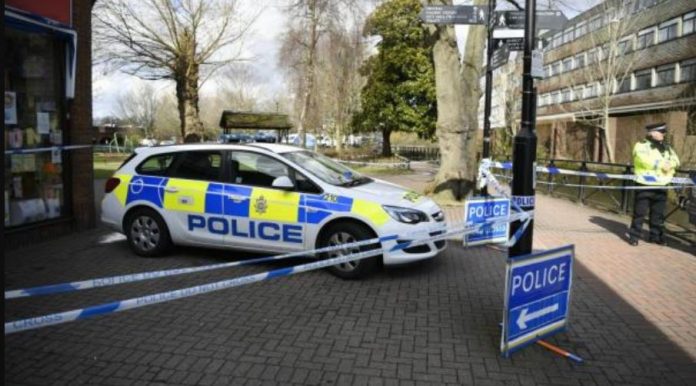 July 5 (UPI) — The British government demanded answers from Russia Thursday about another poisoning that involved the same nerve agent that sickened a former Moscow double-agent and his adult daughter this year.
The poisoned couple, Charlie Rowley, 45, and Dawn Sturgess, 44, were found unconscious at a house in Amesbury, Wiltshire, on Saturday, BBC News reported — about 10 miles from where Sergei Skripal, a former Russian spy who later went to work for the British government, and daughter Yulia were poisoned.
The Skripals survived their attacks after weeks of hospitalization. Rowley and Sturgess are still being treated.
In both cases, the poison believed to have been used is a Novichok agent, a group of chemical weapon substances developed by the Soviet Union during the 1970s.
"Following the detailed analysis of these samples, we can confirm that the man and woman have been exposed to the nerve agent Novichok, which has been identified as the same nerve agent that contaminated both Yulia and Sergei Skripal," said Neil Basu, Britain's top counter-terrorism officer.
British Security Minister Ben Wallace called on Moscow Thursday to turn over information about the Soviet-era nerve agent.
"[The Skripal attack] was a brazen and reckless attack at the heart of a very peaceful part of the U.K.," Wallace said. "That is part of the anger I feel at the Russian state. They chose to use a very, very toxic, highly dangerous weapon. Novichok in the smallest form can injure thousands of people."
Wallace said Russia could "put this wrong right" by telling British authorities what happened and help "fill in some of the significant gaps."
"They can come and tell us what happened. I'm waiting for the phone call," Wallace said. "The offer is there."
Russia has denied involvement in both poisonings.
"This is very disturbing news. Of course, it triggers profound concern in connection with the similar incidents in the U.K.," Kremlin spokesman Dmitry Peskov said.
Peskov said Britain "failed to provide any convincing evidence" of Moscow's involvement in either attack and said he knew nothing of appeals by Britain.
Both poisonings are under investigation and authorities are trying to determine if they are connected.
"The complex investigation into the attempted murders of Yulia and Sergei remains ongoing and detectives continue to sift through and assess all the available evidence and are following every possible lead to identify those responsible, for what remains a reckless and barbaric criminal act," Basu said. "However, I must say that we are not in a position to say whether the nerve agent was from the same batch that the Skripals were exposed to.
"The possibility that these two investigations might be linked is clearly a line of inquiry for us."