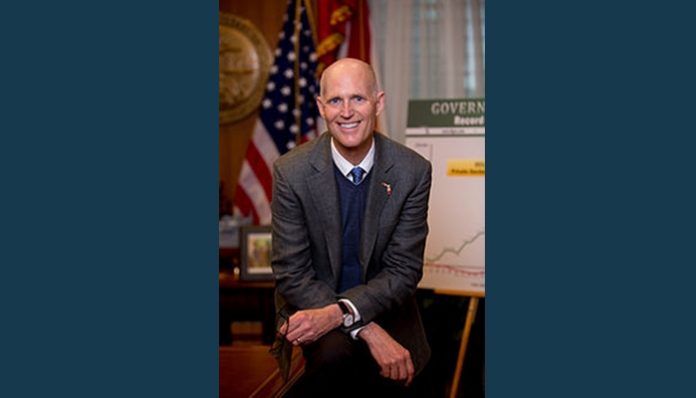 Aug. 14 (UPI) — Florida Gov. Rick Scott declared a state of emergency over a red tide bloom killing marine life on the state's gulf coast.
The emergency order Scott issued Monday applies to mitigation efforts in adversely affected counties including Pinellas, Hillsborough, Manatee, Sarasota, Charlotte, Lee and Collier.
"As Southwest Florida and the Tampa Bay area continues to feel the devastating impacts of red tide, we will continue taking an aggressive approach by using all available resources to help our local communities," Scott said. "I am issuing an emergency declaration to provide significant funding and resources to the communities experiencing red tide so we can combat its terrible impacts," he said.
This additional funding includes "more than $100,000 for Mote Marine Laboratory and $500,000 for VISIT FLORIDA to establish an emergency grant program to help local communities continue to bring in the visitors that support so many Florida families and businesses," Scott said.
Along with the emergency order, Scott directed an additional $900,000 in grants for Lee County to clean up red tide impacts, bringing the county's total red tide grant funding to more than $1.3 million.
"While we fight to learn more about this naturally-occurring phenomenon, we will continue to deploy all state resources and do everything possible to make sure that Gulf Coast residents are safe and area businesses can recover," Scott said.
Red tide is a naturally-occurring microscopic algae, with blooms, in higher than normal concentrations frequently occurring in the Gulf of Mexico, that can produce toxic chemicals to marine life and humans.
The negative effects can affect humans when the waves break and release the toxins into the air, leading to respiratory irritation and for those with chronic respiratory conditions symptoms can be more severe. For marine life, red tide has caused widespread fish kills and killed other marine life.
The state's Department of Health issues beach warnings to impacted areas.
The executive order comes after Florida Senator Bill Nelson tweeted about the need for help with the red tide crisis last week.
"I called on the CDC [Centers for Disease Control and Prevention] to help with the algae & red tide crisis here in Florida," Nelson tweeted. They just wrote back. Said they are ready to help but can't until the state asks for it. What is going on? Why aren't state leaders asking for help? This is a real crisis – we need all hands on deck!"
Red tide has been documented in Florida's Gulf Coast since the 1840s and naturally occurs every year, but it usually subsides in the summer and has instead continued to worsen in its 10th month, prompting the executive order. The current intensity and duration of red tide is something Florida has not experienced since 2006.
Water quality experts say the blooms are sometimes fueled by nitrate pollution flowing from over-fertilized yards and leaky septic tanks.
Along with the red tide, an invasion of blue algae, a type of bacteria, which similarly causes fish kills and can cause other other health effects to humans, is spoiling miles and miles of other Florida waterways.