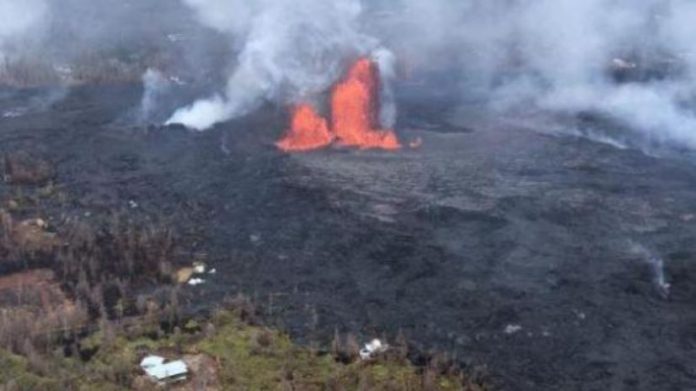 May 30 (UPI) — Officials ordered immediate evacuations Wednesday in an area overwhelmed by fast-moving lava from fissures caused by Hawaii's Mount Kilauea volcano.
"You are at risk of being isolated due to possible lava inundation of Beach Road near Four Corners," the notice from the Hawaii County Civil Defense read.
Parts of Puna on the Big Island are at risk of additional lava flow, officials warned.
Eruptions from Mount Kilauea have continued for nearly a month, with lava fountains as high as 200 feet feeding a northeasterly lava flow recorded as fast as 200 yards per hour.
Officials said Tuesday 112 structures have been destroyed by lava, including 20 homes in the past 48 hours. Lava also blocked Highway 132, a critical access point and escape route. More than utility 400 poles have also been destroyed by the lava.
"It took the road," said civil defense administrator Talmadge Magno. "We lost [Highway] 132 and there's no power down to that area and as explained to me, it's going to be an extended outage."
Although lava continues to shoot dramatically from several fissures, there has been no uncontrolled release of hydrogen sulfide, as was feared.
Officials warned of tephra, a name given to matter thrown into the air during an eruption, from ash particles to explosive rocks. The U.S. Geological Survey's Hawaiian Volcano Observatory issued a warning for high volcanic gas emissions and lightweight volcanic glass, known as Pele's hair, emerging from a fissure.
"There were reports of Pele's hair falling in Pāhoa," the observatory said. "Residents are urged to minimize exposure to these volcanic particles, which can cause skin and eye irritation similar to volcanic ash."