IRVING, Texas, Sept. 16 (UPI) — A Texas teen who made a digital clock and brought it to school, only to end up being arrested and accused of a bomb scare, has been invited to the White House to show off his creation.
Ahmed Mohamed, 14, faces no charges after he was arrested in Texas for bringing to school a homemade clock teachers and administrators mistook for a bomb — a detention some claim was due to his Muslim background.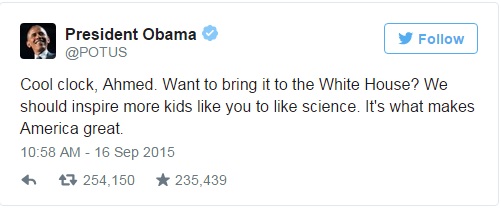 Irving Police Chief Larry Boyd said the event was a "naive accident," adding that the department is "confident" the clock is not a bomb and that the case is closed.
Boyd said if a similar event occurred, "the reaction would have been the same regardless" of the student's skin color.
Ahmed was arrested for having "a hoax bomb" on Monday after bringing his homemade clock to school. He brought in the clock to show his engineering teacher at the city of Irving's MacArthur High School first thing in the morning.
"He was like, 'That's really nice,' " Ahmed told The Dallas Morning News. " 'I would advise you not to show any other teachers.' "
Ahmed, who said he has enjoyed robotics since middle school, put the clock inside his school bag but during an English class, the clock beeped. He showed the complaining teacher.
"She was like, it looks like a bomb," Ahmed said. "I told her, 'It doesn't look like a bomb to me.' "
The teacher kept the clock and Ahmed, who was wearing a NASA shirt, was later pulled out of a class to meet with the principal and five police officers.
"Yup. That's who I thought it was," reportedly said a police officer who Ahmed had never seen before.
"They were like, 'So you tried to make a bomb?' " Ahmed said. "I told them 'no, I was trying to make a clock.' He said, 'It looks like a movie bomb to me.' "
Ahmed was arrested and taken to juvenile detention, causing him to miss a student council meeting. The school principal suspended Ahmed for three days, according to his family.
The Council on American-Islamic Relations said it was investigating the event.
"I think this wouldn't even be a question if his name wasn't Ahmed Mohamed," said Alia Salem, of the council's local branch. "He is an excited kid who is very bright and wants to share it with his teachers."
Ahmed's father, Mohamed Elhassan Mohamed, a Sudanese immigrant, believes his son was mistreated for his Muslim roots.
"He just wants to invent good things for mankind," Mohamed said. "But because his name is Mohamed and because of Sept. 11, I think my son got mistreated."
Police spokesman James McLellan said there was "no information that [Ahmed] claimed it was a bomb" and that "he kept maintaining it was a clock, but there was no broader explanation."
Officers did not believe Ahmed was telling them everything during the interview, prompting the arrest.
"It could reasonably be mistaken as a device if left in a bathroom or under a car," McLellan added. "The concern was, what was this thing built for? Do we take him into custody?"
The incident has generated an outpouring of support for Ahmed and condemnation of Irving's police and school district. President Barack Obama invited Ahmed to join him at the White House.
"Cool clock, Ahmed. Want to bring it to the White House? We should inspire more kids like you to like science. It's what makes America great," Obama said on Twitter.
The American Civil Liberties Union of Texas condemned the actions of the Irving Independent School District.
"Ahmed Mohamed's avoidable ordeal raises serious concerns about racial profiling and the disciplinary system in Texas schools. Instead of encouraging his curiosity, intellect and ability, the Irving ISD saw fit to throw handcuffs on a frightened 14-year-old Muslim boy wearing a NASA T-shirt and then remove him from school," Executive Director of the ACLU of Texas Terri Burke said in a statement. "We should not deprive our children of liberty when they haven't broken the law, and we should not suspend them from school when they haven't broken the rules."