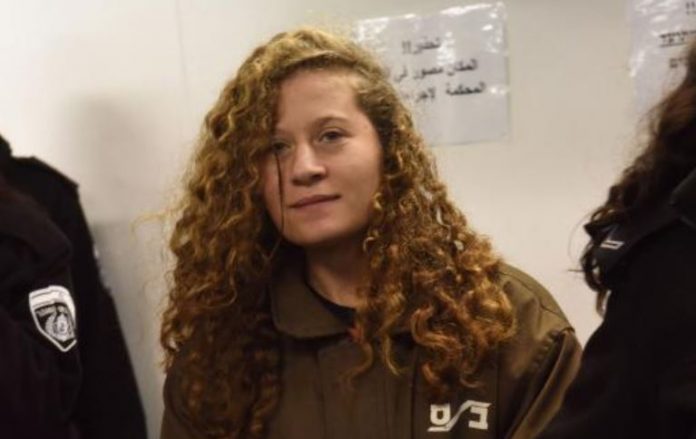 March 22 (UPI) — An Israeli military court sentenced a 17-year-old Palestinian girl to eight month in prison Wednesday for slapping two Israeli soldiers.
Ahed Tamimi, who was 16 at the time of the incident in December, is expected to plead guilty to assault, incitement and two counts of obstructing soldiers.
Tamimi will be credited with four months of time served in the pea deal and receive a fine of $1,441.
"There is no justice under occupation," Tamimi told reporters after the sentence was announced.
Tamimi slapped the soldiers when they came to her family's home shortly after Israeli forces shot her 15-year-old cousin in the head at close range for allegedly throwing rocks.
The incident was caught on video and received international attention, with some applauding the teenager as a brave symbol of Palestinian resistance against the occupying Israeli military and others criticizing her as an anti-Semitic terrorist.
"The continued imprisonment of Palestinian child activist Ahed Tamimi is a flagrant attempt to intimidate those who dare challenge the circumstances of the ongoing occupation," Amnesty International said.
"She is not a little girl, she is a terrorist," Israeli culture minister Miri Regev said, according to The Guardian. "It's about time they understood that people like her have to be in jail and not be allowed to incite racism and subversion against the state of Israel."
Tamimi's mother, Nariman, who filmed the confrontation, was sentenced to eight months for assisting in the assault. Her father, Bassem, praised both of them in an essay published in the Middle East Monitor.
"The incarceration of the two most important women in my life, my wife Nariman and daughter Ahed, is not an extraordinary or exceptional case. On the contrary, Palestinians have continued to endure such atrocious behavior from Israel as an occupying power since the Nakba of 1948," Bassem wrote, referring to the 1948 Palestinian War. "Perhaps my family represents a model of Palestinians in general, and women specifically, who suffer from inhumane practices on a daily basis."