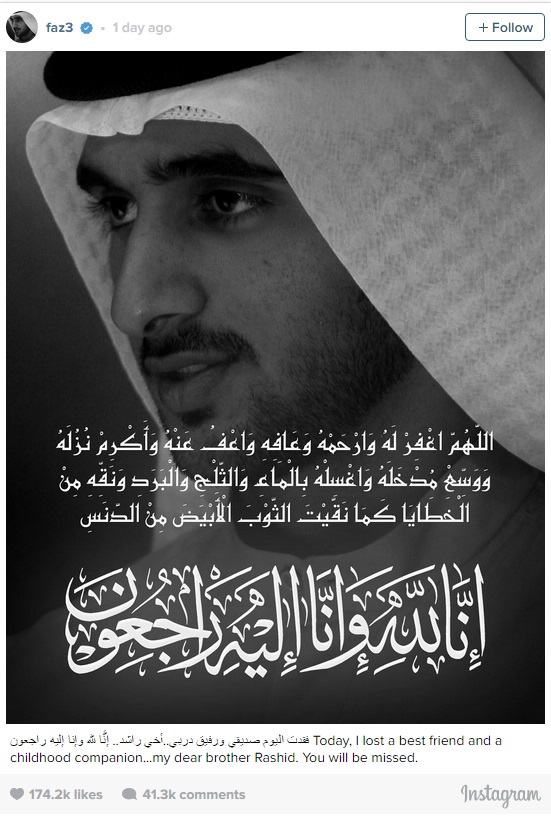 DUBAI, United Arab Emirates, Sept. 19 (UPI) — The 33-year-old son of the ruler of Dubai died Saturday morning from an apparent heart attack, the state-run WAM news agency reported.
Sheikh Rashid bin Mohammed Al Maktoum was the eldest son of Sheikh Mohammed bin Rashid Al Maktoum, also vice president and prime minister of the United Arab Emirates. Al Maktoum's funeral was held Saturday afternoon, the start of a three-day mourning period in Dubai. UAE flags will be flown at half staff during the period, but government departments will remain open.
Al Makroum's brother, Sheikh Hamdan bin Mohammed bin Rashid Al Maktoum, the Crown Prince of Dubai, expressed his sadness on Twitter and Instagram.
"Today, I lost a best friend and a childhood companion…my dear brother Rashid. You will be missed."
Al Maktoum was a jockey before attending the prestigious Royal Military College in Sandhurst, England when he was 20. He was a well-known sports personality in Dubai and chairman of the UAE Olympic Committee from 2008 to 2012. He won two gold medals in endurance individual and team mixed events at the 2006 Asian Games.