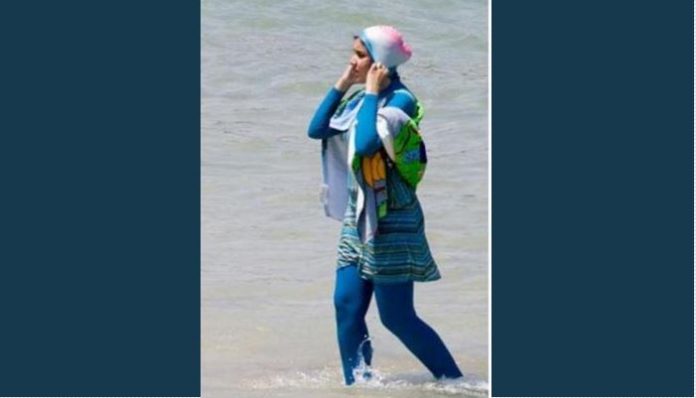 CORSICA, France, Aug. 15 (UPI) — Sisco has become the third city in France to ban full-body swimsuits known as burqinis after five people were injured in a beach brawl between families of North African Muslim descent and local youths over the weekend.
A special council session of the city on the island of Corsica instituted the ban Sunday, joining French Riviera cities Cannes and Villeneuve-Loubet in outlawing the swimsuits.
Islamic headscarves are banned from French schools and niqabs (full-face veils) and burquis (full-body veils) cannot be worn in public.
Sisco Mayor Ange-Pierre Vivoni said his decision was "nothing to do with racism, it's about protecting people's security." He said Corsica was "sitting on a powder-keg."
Vivoni is a Socialist, but the mayors in Cannes and Villeneuve-Loubet are both in the right-wing Republicans Party.
Last week, Cannes Mayor David Lisnard called the clothing a "symbol of Islamic extremism" and the head-to-ankle beachwear is meant to "protect the population" by reducing attention to Muslims' distinctive clothing.
The brawl in Sisco on Saturday was on a creek near the village of Sisco in Upper Corsica.
The fight started after three families of North African origin objected to tourists taking pictures of women bathing in the suits, witnesses said. Some involved in the brawl had hatchets and harpoons.
On Sunday on Corsica island's Bastia, about 200 Corsicans marched on the Lupino district, which has a large North African community, chanting, "This is our home." Riot police barred the crowd from housing where some of the bathers are said to live.
French Interior Minister Bernard Cazeneuve pledged a full investigation "to shed light on these intolerable deeds and to arrest those responsible."
Tensions in France are heightened after the massacre of 85 people when a Tunisian plowed a truck into crowds celebrating Bastille Day on July 14 on the seafront at Nice.