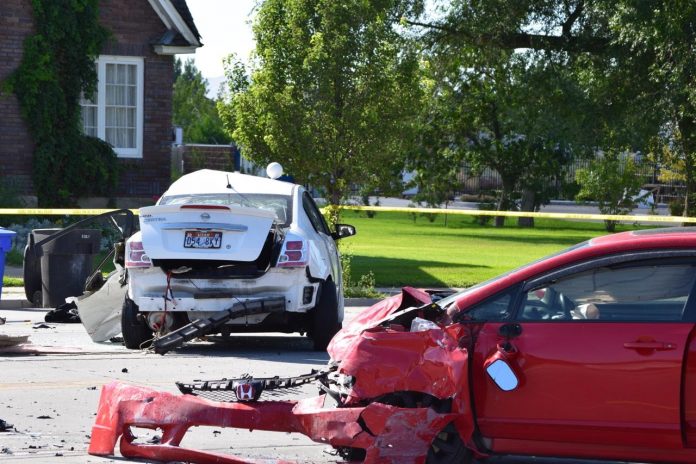 WEST JORDAN, Utah, Aug. 11, 2016 (Gephardt Daily) — One man is in critical condition after a two-car collision that closed Redwood Road to traffic in West Jordan on Thursday afternoon, police said.
The crash at 9200 South has shut down Redwood Road between 9000 South and 9400 South, and drivers are being asked to avoid the area.
Officers were dispatched to reports of a two-car collision in which one driver was pinned inside his vehicle at 2:40 p.m, West Jordan Police Officer Scott List told Gephardt Daily.
List said a red Honda Civic was travelling northbound on Redwood Road, and a white Nissan Sentra was at the stop sign at 9180 S. Redwood Road, facing westbound to turn south across traffic. The Sentra turned left and then was T-boned by the Honda Civic.
The driver of the Sentra, a 58-year-old man, was pinned in his car and was unconscious. He was extricated from his vehicle in critical condition and taken by ground ambulance to Intermountain Medical Center in Murray. List said the man is from Draper or West Jordan, but police are still trying to notify his family.
The 18-year-old West Jordan man driving the Civic suffered minor seatbelt burns and was looked at and released on scene.
Police are investigating the cause of the crash; the speed limit on that part of Redwood Road is 45 mph. List said alcohol and drug use are not thought to be factors in the collision.
Redwood Road is likely to be reopened by 6 p.m.