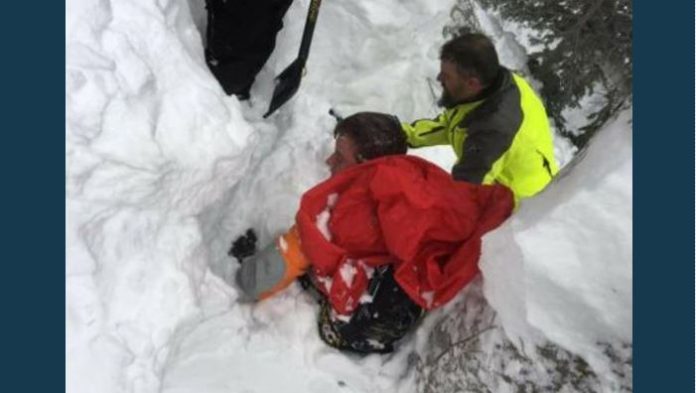 FRANKLIN BASIN, Idaho, Dec. 27, 2017 (Gephardt Daily) — A snowmobiler was trapped in an avalanche on Tuesday near the Utah/Idaho border, according to a report made to the Utah Avalanche Center.
The incident was reported by a woman identified as Natalie. She said she was a friend of the unnamed man who was caught in the slide.
"(A) Friend was in an avalanche today up Boss Canyon, letting people know to be careful," Natalie wrote. "I know he had the right gear and knew how to use it. His legs were pinned between his sled and tree. Took about 45 to get him out, but he was able to get his head out because of his backpack, is what I heard."
The woman reported that her friend and another man were "sidehilling through the forest in lower Boss Canyon," and believed the area's trees would offer "some degree of safety from the known avalanche danger.
"They triggered the avalanche, both riders were caught, and one rider was able to ride clear while the other was caught and carried. The caught rider deployed his avalanche airbag and held on to his sled as he was swept downhill into a tree."
The snowmobile was badly damaged, according to the report, and the victim was buried with part of his head above the snow.
"It took a long time to get both the rider and his sled extracted as his foot was pinned under the sled," Natalie's account said. "After about 45 minutes of digging, the slightly injured rider was out and they self-evacuated."
The report included an email message said to be from the rider's mother:
"Hi, the avalanche at Boss Canyon yesterday involved my son. I am so thankful for the countless hours they spend in your classes learning and observing. Thankful for proper gear and for the outcome of this event. His brother and dad and uncle are the ones that dug him out. So many mixed emotions as they were digging him out and can't imagine how they would have felt had he not made it. THANK YOU THANK YOU."