BREAKING NEWS: Beau Biden, VP's Son, Dies From Brain Cancer
BETHESDA MARYLAND – May 29, 2015 – Gephardt Daily & UPI
Beau Biden, son of U.S. Vice President Joe Biden, has died after battling brain cancer. He was 46-years old.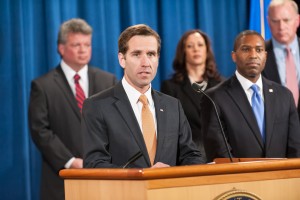 The former Delaware attorney general and current Democratic candidate for Delaware governor in 2016 had been hospitalized at Walter Reed Military Medical Center outside Washington, D.C. since May 19th.
The vice president's office confirmed the younger Biden was undergoing medical treatment at the time, but declined to disclose more details.
Beau Biden had recently been out of the public eye in large part due to health problems. He had a mild stroke in 2010 and in 2013 had a small brain lesion removed at University of Texas MD Anderson Cancer Center.