TUCSON, AZ; GREENBELT, MD; WASHINGTON, D.C. (Gephardt Daily Staff) – NASA's most ambitious sample retrieval missions since the moon landings heads into the home stretch Monday and while it won't be crossed until September 2024, the finish line runs straight through Utah's west desert.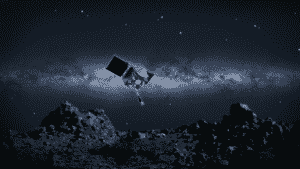 Launched in 2016, NASA's OSIRIS-REx arrived at asteroid Bennu in 2018.  The refrigerator sized probe spent nearly two years orbiting the asteroid. According to NASA, that made Bennu the smallest celestial object to ever be orbited by a human-built spacecraft.
Before arriving at the asteroid, little was known about Bennu other than it would be a good place to find some of the most pristine building blocks of the solar system untouched for billions of years.  Astronomers did not even know what color the soil and rock on the would be.  The scientific mission run by the University of Arizona in Tucson changed that.  In the years following its arrival, OSIRIS-REx conducted numerous studies of the asteroid and mapped it in great detail.
The work culminated in a daring 'touch and go' maneuver in October, when the craft descended to within feet of the surface, reached out with its arm and 'grabbed' more than 60 grams of the asteroid. While that might not sound like much, it is approximately 10 times more than what was obtained on Japan's sister mission to the asteroid Ryugu.  That sample was returned to earth in December.
OSIRIS-REx is scheduled to fire up its main thruster Monday afternoon and begin the more than 2-year trip back to earth.
Right now, the spacecraft is 178 million miles from its home planet.  That's nearly twice the distance from the earth to the sun.
Once in orbit, it will drop the canister containing the asteroid sample which will fall through the outer atmosphere then use a parachute to drift to the ground at the Utah Test and Training Range west of the Great Salt Lake. That it set to happen on September 24, 2023.
From there, the samples will be taken to NASA's Johnson Space Center in Houston. That's where they will be unpacked and distributed to research facilities around the world.
Given the historic nature of the sampling and the challenges overcome to make it happen, NASA says it will save 75% of the total sample for future research with technology that has yet to be invented.
NASA will be broadcasting the departure of OSIRIS-REx live on Monday afternoon beginning at 2 o'clock Utah time.  It will be on NASA TV, the agency's website, app and all social media platforms. The public is encouraged to follow along and even ask questions using #ToBennuAndBack.