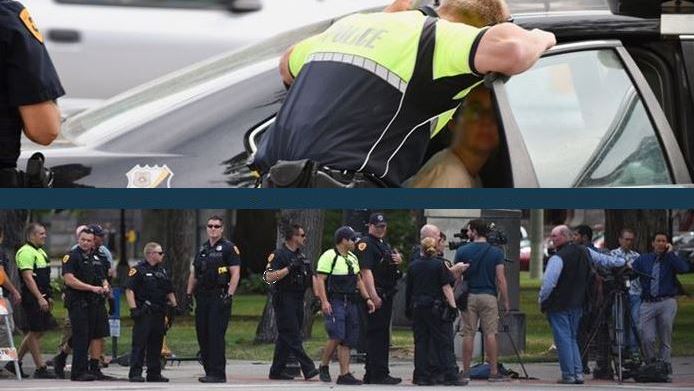 SALT LAKE CITY, Utah, July 9, 2019 (Gephardt Daily) — Police responded to the downtown area Tuesday afternoon after dozens of people protesting Utah's Inland Port spilled out of the City and County Building and into the nearby building that houses the Chamber of Commerce.
Detective Greg Wilking, Salt Lake City Police Department, said at the scene that protesters filled the lobby, with some going upstairs and several becoming abusive.
"Our officers were dispatched and arrived, and there were several people that were up in the office that wouldn't disperse," Wilking said. "Some of those people were actually arrested…
"In this case, they took it a little too far."
Five people were taken to jail to be charged, Wilking said. Three others were cited and released at the scene. Those charged will face charges including riot, assault, trespass and some criminal mischief, he said.
Several downtown streets were closed to traffic while officers worked to regain control of the situation.
"There are really dynamic situations, and we are trying not to set these situations off," Wilking said.
The Inland Port is a huge import-export center being planned for the western area of Salt Lake City, taking up as much as a third of the land. The project has become highly controversial. Critics say it would be bad for the environment and air quality, and would take up too much land, among other things.
"And we understand everybody's right to peacefully protest, and we are often are in charge of protecting those rights," Wilking said. "It's when people come in and disrupt office space, and the course of business, and then start destroying things where we have to introduce ourselves into the situation and protect lives, basically."
Wilking said a strong police presence is required to make sure both civilians and officers are safe in such volatile situations. Officers from multiple agencies responded, some working inside the building and some working outside.
"Eventually, when people are not going to disperse when you asked repeatedly, there's going to have to be some physical measures taken, using the lowest possible level (of force)."
Wilking said "minor scrapes, bumps and bruises" were suffered by some officers and probably some protesters.
"There were some assaults that actually took place on people who weren't part of that protest. We're investigating that as well."