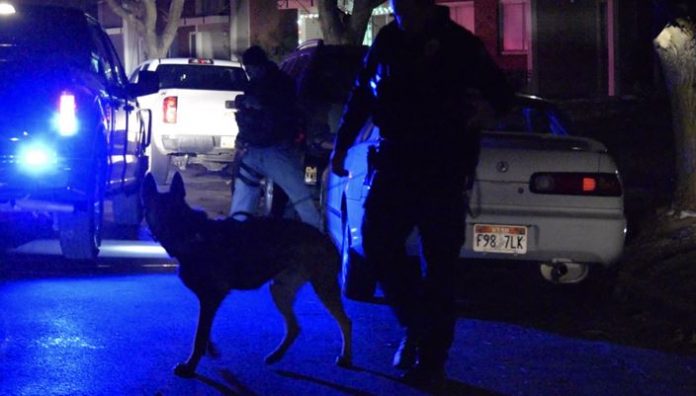 TAYLORSVILLE, Utah, Dec. 15, 2018 (Gephardt Daily) — Police say a man wanted on multiple felony warrants led officers from multiple agencies on a car chase Friday night in Taylorsville, hitting one officer and nearly striking an apartment building before jumping from his vehicle and escaping into the night.
The incident began at about 11:45 p.m. near 4100 S. Redwood Road when officials from the Unified Police Department Metro Gang Unit spotted the suspect in a vehicle. After a period of surveillance, police moved in, and the suspect fled.
"We had our metro gang unit attempting to arrest a wanted fugitive, and when they attempted to apprehend him, he attempted to strike one of our officers with his vehicle," said Lt. Ken Malone, Unified Police Department, at the scene.
The officer jumped away, and was grazed but not injured, Malone said. The car also struck the officer's pistol, which was in his hand, and the impact broke the pistol. The sound of the weapon against the vehicle was loud, Malone said, and some of the other officers mistakenly thought the weapon may have discharged, but it had not.
"So a short pursuit ended here, where the vehicle became disabled and he fled on foot," Malone said.
The car stopped after hitting a curb and blowing out one of its tires, and it stopped just short of hitting an apartment building. Police set up a containment area and brought in police dogs, but the suspect got away.
"The vehicle ended up being stolen, but other than that, we didn't find any evidence in the car," Malone said. "We do have a female in custody."
Police were still trying to determine the role of the female passenger in the incident. A third person was in the car during earlier surveillance, Malone said, but that person left before police made contact.
Malone did not release the name of the suspect.
"We have him identified. We're not going to release that at this point. We know who he is."
The incident drew officers from multiple agencies, including police from West Valley, South Salt Lake and Cottonwood Heights. Also responding was the Utah Highway Patrol and the Department of Public Safety helicopter.
"The fact that they attempted to hit one of our officers — we had a lot of resources trying to apprehend him," Malone said.