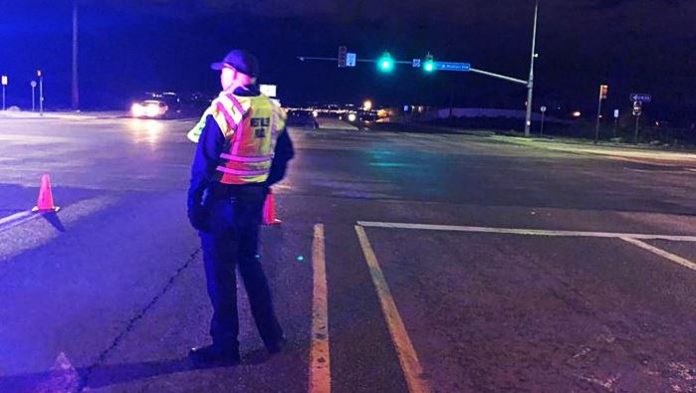 WEST VALLEY CITY, Utah, April 25, 2019 (Gephardt Daily) — West Valley City police have released the name of the teen killed Wednesday night in a violent T-bone car collision on the Mountain View Corridor.
"The woman killed in the crash on 6200 S. Mountain View Corridor yesterday evening was Talia Littlefield (1/15/01) of Tooele," says a WVCPD tweet issued Thursday morning.
The 18-year-old woman was a passenger in a gold colored car that ran a stop light and was hit by another vehicle.
The crash was reported at 8:15 p.m., West Valley City Police spokeswoman Roxeanne Vainuku told Gephardt Daily. WVCPD officers responded to the scene.
"A 17-year-old girl was driving a four-door passenger car westbound," Vainuku said. "Preliminary information is that she ran a light. A southbound vehicle, another passenger car, hit the passenger side of the 17-year-old girl's car."
The victim, now identified as Littlefield, was in the gold car's passenger seat. Her door and the back seat passenger were both crushed inward by the impact of the second car, described as orange in color and driven by a 51-year-old woman.
Littlefield was pronounced dead at the scene. Her 17-year-old driver and the woman from the other car were transported to an area hospital with non-life threatening injuries, Vainuku said.
Department said witnesses called in the accident, saying a westbound gold car had run a red light and collided with a southbound orange car driven by a 51-year-old woman.
"They were all wearing seatbelts," WVCPD Lt. Steve Burke said at the scene. Burke said speeds in the area are 65 mph.
Littlefield's Facebook page says she was a student at Stansbury High School, class of 2019, which has its graduation set for May 25.
Gephardt Daily will have more information on this developing story as it becomes available.