Christopher Lee; Despite the Horror, A Perfect Gentleman by Tony Toscano
June 11, 2015 (Gephardt Daily)
Christopher Lee was an impeccable actor and gentleman.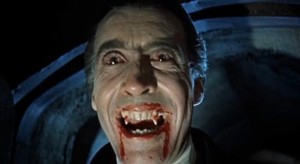 I grew up watching his films that played and replayed on our old black and white TV. Films like "The Curse of Frankenstein," "The Horror of Dracula" and "Horror Castle," were among my favorites. Those cheesy and terribly grainy movies made Christopher Lee the epitome of horror movies in the 60's.
But it was more than just being in them, it was how he was in them. Lee was sincere and gave his all in those cheesy parts. He always took those roles as seriously as he would take on any Shakespearian role. A consummate actor who realized the worth and value of the importance of the characters he was portraying and who he was portraying them to. After all, playing Dracula was an honor to Lee. It was (and is) a role every actor would like to attempt.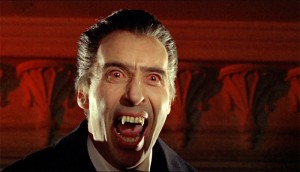 Horror became his acting calling card, as the 60's and 70's rolled on, Lee was a standard in films many only saw at the drive in or late night TV.
And as the "grindhouse" double feature projector clattered on warm weekend nights in L.A., we'd grab a seat in some small theater and overpay for popcorn and a drink and settle in to see "Taste the Blood of Dracula," "Dracula A.D. 1972" or "The House that Dripped Blood."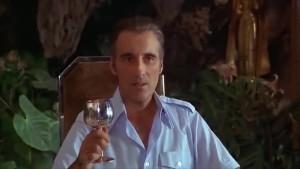 Lee eventually tired of his horror image and began searching for more mainstream roles. He appeared in "The Three Musketeers," "The Man with the Golden Arm" and "The Private Life of Sherlock Holmes," to name a few.
In recent years the actor was discovered by a new generation as he garnered roles in "Star Wars: Episode II: Attack of the
Clones," "Star Wars Episode III: The Revenge of the Sith," and in "The Lord of the Rings Trilogy." Lee also played Johnny Depp's on screen father in "Charlie and the Chocolate Factory."
His many honors include being appointed as Commander of the Order of St John on January 16,  1997. On June 16, 2001, he was created a Commander of the Order of the British Empire in recognition of his services to drama. He was created a Knight Bachelor on June 13, 2009 in the Queen's Birthday Honours List for his services to drama and charity.
I met briefly Christopher Lee in passing twice in my life.  Once at a Filmex event to honor director Richard Lester where they screened "The Four Musketeers: Milady's Revenge" at UCLA. The cast of the film was there and I had the privilege to chat with Lee for a few minutes. The second time was while I was on a set visit and ran into the actor while he was doing a small part on the short lived TV series "The Young Indiana Jones Chronicles," in the early 90's.
He was waiting to be called and was enjoying an iced tea in the shade of an umbrella. As I walked by, I said "hi" and exchanged pleasantries and for a few minutes engaged him in conversation. Again the perfect gentleman, he asked if I'd like to sit for a few moments. I did.
I told him how much his films had made an impact on me and a lot of my movie-loving friends. He smiled and was genuinely touched by what I said. There was a bit of silence as he seemed to reflect on my statement and then we chatted about non-important things, car repairs, in-laws, bad food and music. Talking and laughing as if we were two old friends.
I never had the opportunity to interview or speak with him again. But I always tried to catch him on the big screen.
Christopher Lee passed away in London at 8:30 a.m. on June 7 of respiratory and heart failure. The actor was 93.