CUNDY'S HARBOR, Maine, Feb. 3, 2016 (Gephardt Daily) — Bob Elliott, a comedy pioneer on both radio and television, has passed away at the age of 92. The cause of death is reportedly throat cancer.
Elliott was part of the duo Bob and Ray, and began sometime in the late 1940s with co-founder Ray Goulding (Goulding died in 1990 at the age of 68).
As part of the team's "Bob and Ray Show" television program, Elliott popularized characters like reporter Wally Ballou, sportscaster Biff Burns and Harlow … P … Whitcomb, the president of the Slow Talkers of America.
The series ran for only two years but the comedians continued collaborating after its cancelation.
Elliott was the father of comedian Chris Ellott, who confirmed his father's passing to the New York Times.
TV host David Letterman was an admirer of the pioneering duo so much he frequently had Elliott and Goulding guest on his "Late Night" NBC program.
"The funniest people in this country, these guys are also two of the keenest observers of the American scene and the finest interviewers in the business," Letterman said of the duo prior to one interview.
"(Letterman) told me that he'd tried a number of times to book Bob and Ray on 'The Tonight Show' when he was filling in for Johnny," Chris Elliott told Rolling Stone in 2008. "But he hadn't had any luck."
According to The Rolling Stone, Bob Elliott was a frequent guest star on television shows in the '70s and '80s, appearing on "Saturday Night Live," "Happy Days" and "Newhart."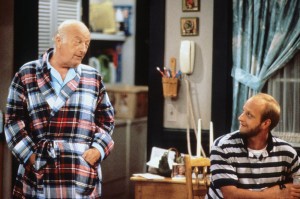 Elliott was also cast to play the father of his own son on Chris' sitcom "Get a Life," and again played his son's father on screen for the 1994 film "Cabin Boy." Bob Elliott also lent his vocal talents to "A Prairie Home Companion."
"My hero, who was ceaselessly encouraging to me," Keith Olbermann tweeted following news of Elliott's passing. "For my money, we lost an American hero today. Rest in peace, Bob Elliott, and thank you for everything."