August 7, 2015 (Gephardt Daily) — Director Josh Trank suggested on Thursday that he wasn't responsible for the final cut of "Fantastic Four," which has been widely panned by critics prior to its Friday release – Variety reported today.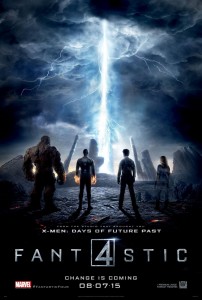 The director was quoted as saying in a Tweet, "A year ago I had a fantastic version of this. And it would've received great reviews," he wrote of the 20th Century Fox and Marvel pic. "You'll probably never see it. That's reality though." After publishing the statement, the tweet was deleted.
The new film stars Miles Teller, Kate Mara, Jamie Bell and Michael B. Jordan, has only a 9 percent fresh rating on RottenTomatoes.
Variety critic Brian Lowry wrote that it "feels like a protracted teaser for a more exciting follow-up…that might never happen."
Trank made news some months ago when he left a "Star Wars" project he was helming for Lucasfilm and Disney. The director defended his departure claiming he just needed time off.
The general feeling throughout the industry was Trank was let go from the "Star Wars" project because of reports of his instability on the "Fantastic Four" set.
The director was quoted to say, "None of those facts were true," he said. "And any of the facts that were true were spun in such a maliciously wrong way."
Despite being panned by the critics, experts are predicting a $40 million debut at the box office for "Fantastic Four."