August  6, 2015 (Gephardt Daily) – Writer Kevin Jagernauth for on-line entertainment magazine 'Indy Wire" is reporting that "One of the most notorious, unreleased films ever made, Jerry Lewis' Holocaust drama 'The Day The Clown Cried' is being given to the Library of Congress.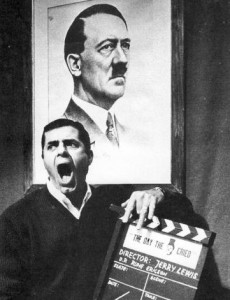 Even Lewis himself, who has long been sitting on the only copy of the movie, has veered in recent interviews from being "embarrassed" to "proud" of the effort in which he plays a German circus clown arrested by the Gestapo after mocking Hitler, and who is eventually forced by the Nazis to perform and help lead Jewish children to concentration camp gas chambers."
But he has long held he would never show the movie (which was plagued by production and financial woes) publicly, though he thinks if he had a chance to tweak it, maybe it could work.
Lewis once explained, "I think about this a lot. If I could pull certain specific elements from the project, and give me these three or four elements that I can do what I want with, if I hired Lincoln Center one night, for a specific audience, and give me one week shooting to let me shoot a beginning to that, a beginning to that, and a beginning to that and let me show that…. Whoooo-weeeee! It would be f*#@ing wonderful to think about," he said in 2013, adding: "What I would shoot would be strictly as a marketing presentation tool for that night and it would all be thrown away after that night."
Jagernauth goes on to report The LA Times reveals the Library Of Congress has just received a collection of Lewis' work from Lewis himself, including "The Day The Clown Cried." But there's one caveat: Lewis made the Library agree not to screen the movie for ten years.
So, the wait will continue, but it looks like this little piece of movie history will finally come to light in a decade. Until then, you can check out some footage and behind-the-scenes material right here.