PARK CITY, Utah, June 14, 2016 (Gephardt Daily) — Nestled in the mountains east of Salt Lake City is a Utah hot spot, Park City. The mining town, which was established in 1869, was home to some of Utah's gold, silver and lead mines, according to Wikipedia.com.
In fact, Park City is home to one of the most famous silver mines in the world at that time, The Silver King Mine. The town flourished with crowds of miners and wealth. However, the city nearly became a ghost town by the end of the 1950s because of a drop in the price of silver.
In the late 1950s Park City became known for its world-class snow and was developed as a ski resort.
In the late 1970s, Park City became famous for hosting the Sundance Film Festival (started as The Utah/US Film Festival in 1978). Sundance is credited with bringing Hollywood's best known directors, screenwriters, producers and actors to Utah.
In 2015, The Park City Film Studios opened its doors with former Utah Film Commissioner Marshall Moore at the helm. Moore serves as the studio's vice president of marketing and government relations.
Since the film studio was opened, it has been home to a major television production. ABC TV's "Blood & Oil" was shot there and used many Utah locations as background.
I chatted with Moore about the studio and its impact on Utah.
"It was purpose-built as a motion picture and television production facility. As such, we made it clear that it is here, it's open, it's available. It's brand new. It's state-of-the-art," Moore said.
"It's not a converted warehouse. That's not what this is. This is a studio that was built from the ground up to accommodate large-scale productions, or any type of production.
"We've accommodated a variety of events this past year. Including a network television series (ABC TV's Blood and Oil), a Sundance event (The Studio Lounge) that went for five days, an independent feature ('Wind River' starring Jeremy Renner), a large concert with Lynyrd Skynyrd for a corporate event, and coming up in the next few weeks, we'll have another independent feature in here and a commercial.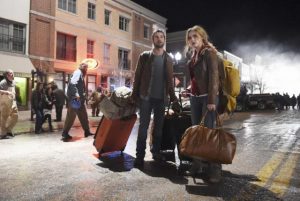 Moore has his days and weeks filled with marketing and promoting the studio. Moore travels to entertainment centers like Hollywood just about every chance he can. He also attends location seminars, movie maker conventions and filmmakers' gatherings so he can show off the Park City Film Studios.
"Since it's a very niche market, you know, it's not a global approach. It's a targeted approach and that targeted approach involves reaching out to the decision makers that actually are the ones that say 'We need a facility like that! We need to come to Utah for the landscapes and we want the incentives.'"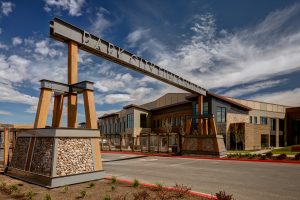 Moore continued, "Until you get actually get them on the ground seeing the locations, meeting the crews, seeing the talent that's here in Utah, seeing that there's 'Grip and Electric,' available… Until you get them here, there's a lot of skepticism. They say 'Oh, Utah? Why would I go to Utah?'"
Moore says that once the producers do actually meet the crews available here in Utah, they realize our production teams rival any crews in the world. It getting that foot in the door, and then it's word of mouth.
Even though "Blood & Oil" was canceled, the producers were very impressed with the Utah film crews and the talent pool the state had to offer, and that means word is spreading.
Click here for more information on The Park City Film Studios.