SAN FRANCISCO, Oct. 14 (UPI) — Roseanne Barr was hospitalized on Tuesday after she fell in San Francisco's Golden Gate Park and broke her kneecap in three places.
Barr tweeted a photo of her swollen knee with the caption, "Fell broke kneecap! Did Hillary drone me? Lol."
The 63-year-old actress is scheduled to undergo surgery on Monday.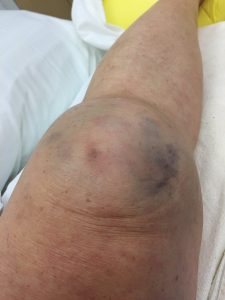 "I really want to thank the very kind & wonderful #SFParamedics who had to cart my fat [expletive] out of Golden Gate Park over 2 hospital yesterday," Barr said in a tweet.
Sara Gilbert, host of The Talk, wished her TV mom well saying the injury looked "brutal."
"We hope you get better fast," Gilbert said.