"Mission Impossible: Rogue Nation"
Starring: Tom Cruise, Jeremy Renner and Simon Pegg.
Directed by: Brad Bird
Paramount Pictures/ Rated PG-13

"Mission Impossible: Rogue Nation" is the the fifth in the series of films with Tom Cruise and based on the 1960's TV series.
The film focuses on the Impossible Missions Force team who accept their most impossible mission yet, eradicating the "Syndicate," an international rogue organization committed to destroying the IMF.
"Rogue Nation" is an action-packed film for sure. But the film also allows more humor in to the mix, giving Simon Pegg the job of controlling the action and suspense with his wit. By allowing for a natural comedy to blend with the suspense, the chemistry between the actors becomes part of the film's allure, and buoys the movie.
"Mission Impossible: Rogue Nation" isn't another sequel. It's a well-crafted and well acted spy story well worth your ticket in. It gets a B and is rated PG-13
"Vacation
Starring: Ed Helms, Christina Applegate, Chevy Chase and Beverly D'Angelo
Warner Bros Pictures/ Rated R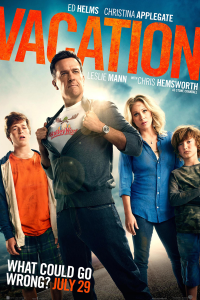 Hoping to bring his family closer together and to recreate his childhood vacation for his own kids, a grown up Rusty Griswold takes his wife and their two sons on a cross-country road trip to the coolest theme park in America, Wally World.
Needless to say, things don't go quite as planned.
Not really a sequel or much of a re-boot, "Vacation" is only a shadow of the original film (which spawned two other films) and even uncomfortably tells us such in one scene.
Mostly a series of gross jokes, set-ups and sight gags, "Vacation" really is only a repeat of a lot of tired jokes and forced humor. From bathing in raw sewage to sight gags revolving around their station wagon (A 2015 Tartan Prancer, "the Honda of Albania") "Vacation" can't seem to get out of neutral.
Overall, while "Vacation" is not completely without merit, it's still a very predictable and forced comedy.
The sad part is because of it's heritage, it could have been so much more.
"Vacation" earns a "C" and is rated R.