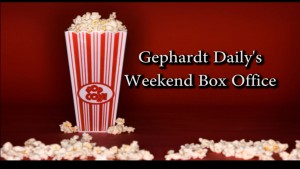 HOLLYWOOD, Feb. 22, 2016 (Gephardt Daily) — Ryan Reynolds' "Deadpool" is still the No. 1 movie in America, and shows no signs of slowing down.
Only two of the new films released made it into the Top 5.
The R-rated superhero film showed very healthy ticket sales with a total of $55 million in weekend business. "Deadpool"'s total is an estimated $235.3 million since it opened. The film has done a worldwide total of $491.8 million.
Holding at No. 2 is the animated feature "Kung Fu Panda 3," starring the vocal talents of Jack Black, Dustin Hoffman and Angelina Jolie. The film brought in a weekend total of $12.5 million and has a domestic total of 117.1 million for its month in release. The third film in the "Kung Fu Panda" trilogy has a worldwide take of $294.2 million.
In the No. 3 position is newcomer "Risen," the faith-based film about a Roman investigation into the disappearance of Christ's body after the crucifixion, is tracking very well. Its box office receipts totaled $11.8 million for its opening weekend. Experts are saying that the film will most likely build an audience into the Easter season.
"The Witch" is in fourth place, and basically on track to what expectations were. The film brought in $8.6 million in its debut weekend.
And in fifth place is "How to be Single," starring Rebel Wilson, Alison Brie, Dakota Johnson and Leslie Mann. The film took home $8.2 million its second weekend out.
Rounding out the top 10 films in the US are:
No. 6: "Race"               $7.2 Million
No. 7: "Zoolander 2"     $5.5 Million
No. 8: "Star Wars VII"   $3.8 Million
No. 9: "The Revenant"   $3.8 Million
No. 10: "Hail, Caesar!"   $2.6 Million