CACHE COUNTY, Utah, Aug. 17, 2016 (Gephardt Daily) — A Cache County girl is getting death threats and explicit verbal abuse from thousands of strangers around the world after she posted pictures of a recent hunting safari on Facebook.
Aryanna Gourdin, 12, likes to hunt big game with father Eli, and last week posted pictures of herself in South Africa, posing with a giraffe and a zebra she killed with her father's help.
The next morning, she woke up to learn her page had more than 24,000 followers, and most of them were angry.
But despite the backlash, Aryanna told "Good Morning America" on Wednesday that she loves hunting.
"It's something I cherish and enjoy and I want other people to see what I experienced," she said in the interview.
The trip, one of many she has taken over the years, drew a lot of interest. One photo drew more than 73,000 comments from a mix of rage-filled animal lovers, avid hunters, and people insisting no child of 12 deserved the verbal abuse Aryanna was getting.
Some comments went so far as to threaten the father and daughter's lives.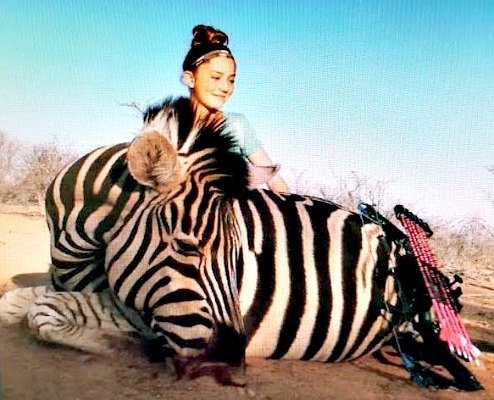 "We're proud to be hunters, and we'll never apologize for being a hunter," Eli Gourdin told "Good Morning America."
Gourdin said the hunting farm the two visited had told them the giraffe they killed was an older, problem animal.
"They actually had an older giraffe that was eating up valuable resources other giraffes need to survive," he told the reporter.
The meat from the various animals they killed was donated to a local village, and will feed 800 orphans over the next month, Gourdin said.
Gourdin has said hunting is part of conservation. The animals were not from endangered species, he said, and herds benefit when problem individuals are culled. And the cost of the hunt will be used to benefit conservation causes, he said.
Aryanna told the GMA reporter she doesn't plan to give up her sport.
"I would never back down from hunting," she said. "I am a hunter and no matter what people say to me, I'm never going to stop."