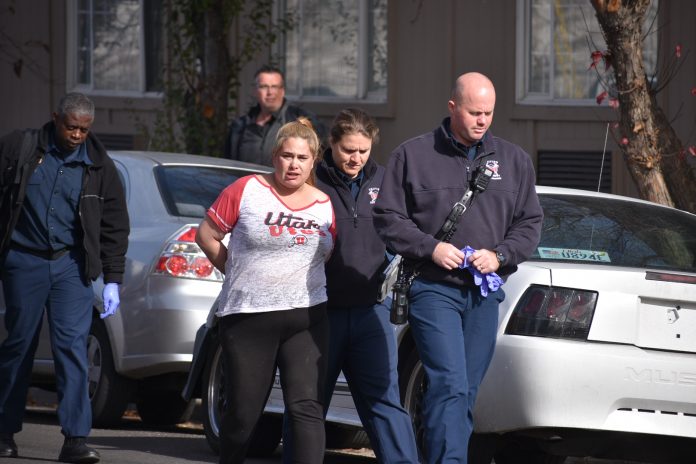 MIDVALE, Utah, Nov. 8, 2017 (Gephardt Daily) — SWAT teams responded Wednesday morning after a car with a gun in it was stolen from Cottonwood Heights and the suspects used a stolen credit card to check into a Midvale hotel.
The incident unfolded at the Discovery Inn at 380 W. 7200 South, where it was reported that an older male with gray hair wearing a flak jacket was armed with a long rifle.
Cottonwood Heights Police Department spokesman Sgt. Ryan Shosted said the vehicle was stolen out of the area Wednesday morning.
"When the vehicle was stolen it had a weapon inside, a gun, and so we made it a priority and were able to track the car down," Shosted said. "They also went out and used some of the credit cards from that vehicle that aided in the investigation and we found the  occupants in a hotel in Midvale. When we got there because of the concerns of weapons and weapons seen, we called in SWAT teams and called the three occupants out and took them into custody without incident."
Shosted said he's unsure what charges the suspects, which include one woman, will be facing at this time.
"Officers wanted to take every precaution and prevent anybody from being hurt," Shosted added.
Agencies who responded include Unified Police Department, Cottonwood Heights Police Department and Unified Fire Authority.
There was also pit bull inside the room, which was safely removed.
Gephardt Daily will have more on this developing story as information becomes available.