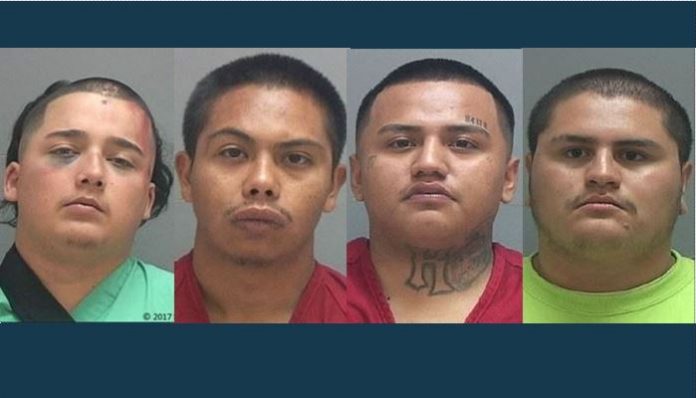 KEARNS, Utah, Sept. 30, 2017 (Gephardt Daily) — Three adults and a juvenile to be tried as an adult have been charged with first-degree murder in a case that police say started with a gang-related drive-by shooting and ended in the collision deaths of two area residents.
The charges were upped from homicide to murder in charges filed on Friday. The deaths occurred as a result of a car-pickup collision that happened at about 7:30 p.m. Sept. 19 near 5220 West and 5400 South.
The incident began when four suspects, two of them documented gang members, arrived outside the Kearns residence of a member of a rival gang, according to court documents.
Witnesses told Unified Police Department investigators that at least one person in the truck began firing shots in the direction of the residence.
The pickup truck then sped away, and struck a white passenger car, killing the two people inside, Kearns residents Tami Lynn Woodard, 50, and Lloyd Everett Pace, 55.
According to witnesses, the suspects ignored a stop sign when they left. Investigators also found that the suspects fled at 44 mph in a 25 mph speed zone, according to court documents.
Two people who had been in the truck fled on foot and were arrested after a large-scale search of the area.
Facing charges are Argenis Daniel Ramirez-Saedt, 19, and Jose Luis Munoz-Lugo, 24, the documented gang members; and Rosalio A. Alvarez, 19, and Jose Humberto Mancia, 17.
When Unified Police officers arrived, they found Pace and Woodard deceased. The two people in the pickup were injured, one by a bullet in the leg. Investigators also found a bullet hole in a vehicle in front of the residence.
Here are the charges the suspects face:
Ramirez-Saedt
Two counts first-degree felony murder
Five counts second-degree felony discharge of a firearm
One count second-degree felony theft by receiving stolen property
Munoz-Lugo
Two counts first-degree felony murder
Five counts second-degree felony discharge of a firearm
One count second-degree felony theft by receiving stolen property
Alvarez
Two counts of first-degree felony murder
One count of second-degree felony discharge of a firearm
One count of third-degree felony failure to stop or respond at the command of police
Mancia
Two counts of first-degree felony murder
One count of second-degree felony discharge of a firearm
One count of second-degree felony theft by receiving stolen property
One count of third-degree felony purchase, transfer, possession or use of a firearm