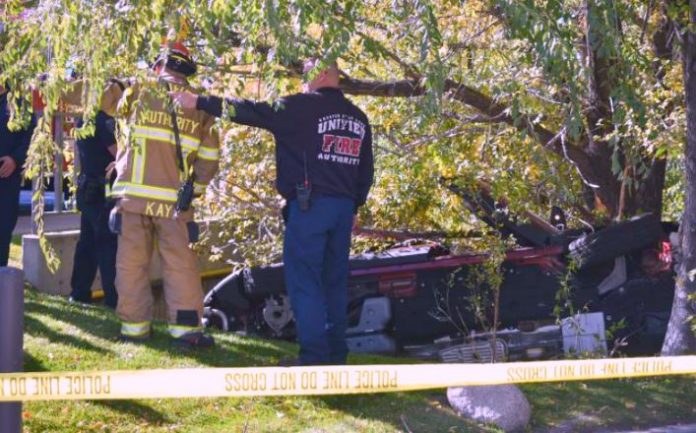 MIDVALE, Utah, Oct. 14, 2017 (Gephardt Daily) — A driver who swerved to the right to try to avoid a serious collision with a vehicle exiting a fast-food establishment ended up with her car in a creek, in need of a water rescue.
The accident happened Saturday afternoon near 7200 S. Union Park Ave., Midvale. The 70-year-old victim, driving a red car, was entering an outdoor mall with a Walmart as the anchor store. Another vehicle, leaving the In-N-Out Burger parking lot, made a right turn, and the two cars collided.
"It was a slight collision," Lt. Paul Barker, Unified Police Department, told Gephardt Daily. "The red car swerved to the right and tried to avoid the accident, but they did collide, and she ended up sideways in Little Cottonwood Creek."
Unified Fire Authority and Unified's Heavy Rescue crew arrived, as did the Sandy Fire Department.
"They were able to stabilize the car, then extricate the patient," Barker said. "She's in stable condition. It's a strange accident…Even though it's kind of spectacular looking, with her car sideways in the creek, it's awesome that it's such minor injuries. Even though she is hurt, and we'll get her checked out at the hospital, it's not a life-and-death situation."
The accident also happened at a good time of year, Barker said.
"It's fall time, and there's not spring runoff where we would have a lot of water in the creek right now. That could have made the rescue a lot more difficult."
Barker said there were a lot of witnesses, and officers conducted interviews.