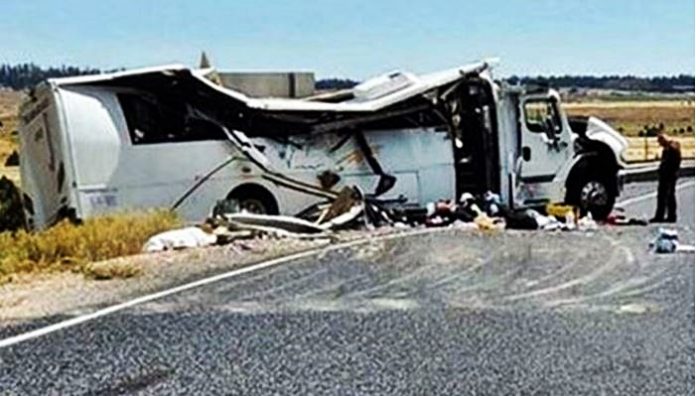 GARFIELD COUNTY, Sept. 21, 2019 (Gephardt Daily) — Half of the tour bus riders injured in the Friday bus crash near Bryce Canyon National Park and brought to Intermountain Healthcare facilities have been released, an IMC tweet says.
The tourist bus was carrying 29 Chinese nationals and one Chinese American bus driver, according to information released by officials on Friday. Four people were pronounced dead at the scene.
Of the 24 patients, received by IMC hospitals, half have been discharged. Five remained in critical condition as of late Saturday morning, and seven others were listed in serious condition.
It was not immediately clear if the remaining two people were uninjured or were taken to a facility outside the IMC system.
Here's the facility breakdown:
As of 9:17 p.m. Friday, the day of the accident, Garfield Memorial Hospital received 19 patients, 11 of whom were transferred, with one admitted and seven discharged. As of Saturday morning at 11:30 a.m., the one admitted patient had been discharged.
Sevier Valley Hospital received three patients Friday, all of whom were discharged the same day.
Dixie Regional Medical Center received and admitted 12 patients Friday. On Saturday, five of those patients remained in critical condition, five were in serious condition, and one was discharged.
Utah Valley Hospital received and admitted two patients, both of whom remained in serious condition Saturday morning.
The accident
It was 11:36 a.m. Friday when the bus crash happened on State Route 12 about seven miles west of the Bryce Canyon National Park entrance gate.
Garfield County Sheriff Danny Perkins also spoke to reporters at the scene.
"It appears like he drifted to the left-hand side of the road, possibly overcorrected, something happened," Perkins said of the driver.
"The bus flipped over, overturned, the bus ended up rolling, and it rolled actually into a guard rail, which impacted the bus approximately in the middle of the bus area. Lots of injuries."
Perkins said that initially, a language barrier hampered efforts to communicate with the Chinese patients. But a firefighter who responded spoke fluent Chinese, Perkins said, and people from Ruby's Inn, which is nearby and has an international emphasis, also were able to assist on the scene.
Three helicopters transported some victims, and others were taken to area hospitals by ground ambulances.
The U.S. Chinese Embassy tweeted late Friday afternoon regarding the accident.
"We are saddened to hear about the accident in Utah involving a bus carrying Chinese tourists. We are thankful to authorities in Utah for their assistance. The Embassy has initiated its emergency protocols, sent personnel to the area, and will assist the victims as needed."
Gephardt Daily will have more information on this story as facts become available.