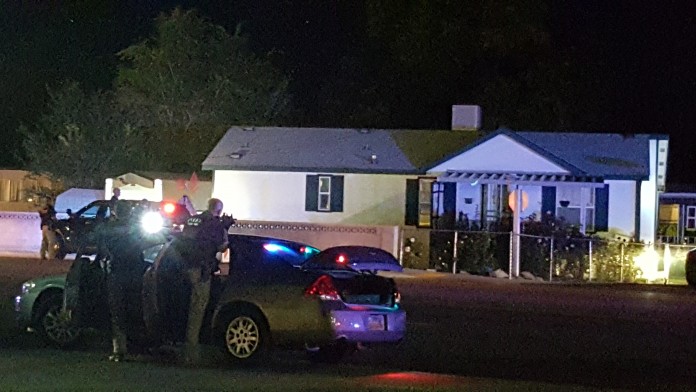 SALT LAKE CITY, UTAH – October 7, 2015 (Gephardt Daily) – A dangerous fugitive wanted on both state and federal warrants was arrested in West Valley City Wednesday night.
Stephen Hammer, 24, one of the Metro Gang Unit's 'Top Ten Fugitives,' was taken into custody around 9 p.m. after being tracked to a home at 3500 South 4200 West.
Thirty to 40 officers from the Metro Gang Unit, West Valley City PD, Homeland Security and the U.S. Marshals Office took part in the arrest as police armed with assault rifles surrounded the home and ordered occupants to come out one at a time.
Hammer was being sought on a string of felony charges including armed robbery, auto theft, burglary, drug possession with intention to distribute, and fleeing police.
He was also arrested on a newly issued federal warrant for alleged weapons violations. The federal charge allows Hammer to be held without bail.
Unified Police Lt. Manfried Lassig said police were glad Hammer was behind bars. "It is a big relief getting him off the streets," Lassig said. "He had no regard for public safety."
Hammer was named a suspect in an August armed robbery at the Macy's Highland Drive at which time he allegedly pointed a gun at a police officer. He recently led police on multiple high speed chases across the Salt Lake Valley and each time managed to escape.
Two other fugitives were arrested along with Hammer. Both were wanted on felony warrants.