MURRAY, UTAH – August 13, 2015 (Gephardt Daily) – Sandy City Police Department, the agency involved in the investigation of a burglary suspect who was shot in the face by a Murray police officer, has released the 911 audio tapes related to the incident.
A press release given by the Sandy City Police department states the incident happened when an off duty-police officer, who was en route to work, helped in responding to a burglary call around 10 a.m., when he received word the suspect, 46-year-old Joby James Romano, of Levan, Utah, was possibly in the bathroom of Southwood Park near 6150 South 725 East.
The officer arrived at the park and observed an individual believed to be the burglary suspect inside a park bathroom. Romano was confronted by the officer after the officer saw what appeared to be a handgun in the suspect's waistband. Romano then walked away from the officer and left the bathroom. The officer again confronted him and Romano pulled what appeared to be a handgun from his waistband and turned toward the officer. The officer shot the suspect one time striking the man in the face.
According to Sgt. Dean Carriger, Sandy Police Department, there is no video footage from a body-cam or dash-cam of the shooting as the Murray Police Officer involved in the shooting was off-duty and on his way to work at the time of the shooting. The officer had not yet picked up his body-cam from the police department to begin his shift. No other officers or vehicles were in a position to capture the shooting.
Sandy Police Department, the outside agency which has been called in to investigate the officer involved shooting, as required by a new state law, issued a statement and photo of the gun, saying the suspect's weapon was really a pellet gun:
"During the initial phase of the investigation, the perceived handgun was determined to be a pellet gun. A pellet gun that was all black and consistent with the appearance of a real handgun; it could be difficult to identify as a pellet gun without actually handling it."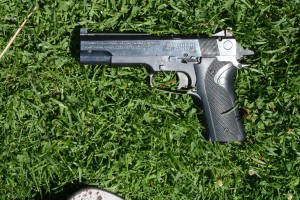 Investigators have revealed the pellet gun the suspect pulled on the officer was actually stolen from the apartment which had been burglarized earlier in the day.
We'll have more on this story as the information becomes available.