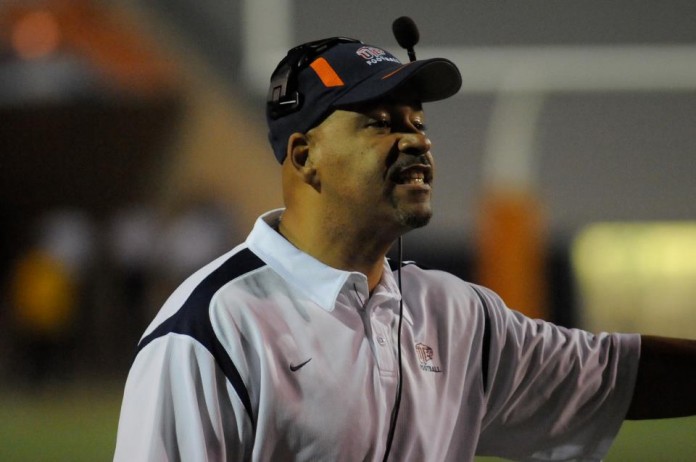 SALT LAKE CITY, Utah, Jan. 6, 2016 (Gephardt Daily) — BYU's former wide receivers coach Guy Holliday has flip-flopped, according to an announcement made by Utah football coach Kyle Whittingham.
Holliday, who spent 2013 to 2015 with Brigham Young University, is now the Utes' new wide receivers coach.
"Guy Holliday has a wealth of experience at the collegiate level and is a proven commodity, both as a wide receivers coach and as a recruiter," Kyle Whittingham said.
In posts on Holliday's Twitter account, the 23-year veteran of college coaching appears excited about the transition, and he thanks those at BYU who helped him grow as a person and a coach.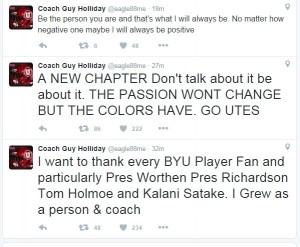 Holliday comes with a vast amount of college coaching experience, starting in the early '90s. It includes positions at four Football Bowl Subdivision schools: Western Michigan, Mississippi State, University of Texas-El Paso, and BYU.
Whittingham also announced Wednesday that Lewis Powell will take over the defensive line after a season coaching the tight ends, who are currently under the direction of Utah director of player personnel Fred Whittingham Jr.
"Lewis did a great job coaching the defensive line at Hawaii before joining our staff and he also played the position for us, so it should make for a seamless transition," Kyle Whittingham said.
"Freddie has been in our system for several years now and has been immersed in virtually every aspect of our program and is ready to take the next step as a position coach. With these moves our staff is now complete and we can turn our full attention to finishing off our 2016 recruiting class."
Powell has been with the Ute staff for the past four years, and spent the last season as a full-time coach.