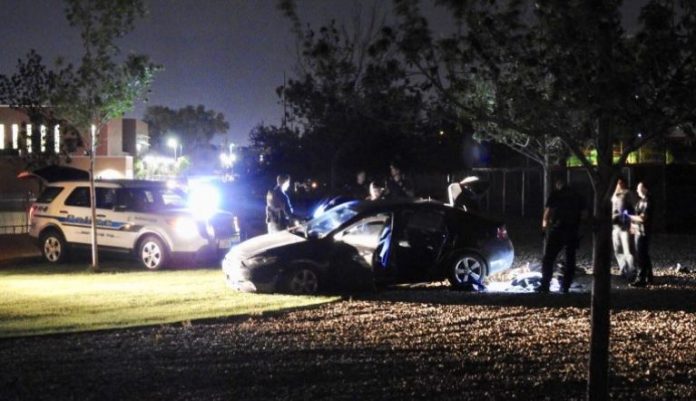 WEST VALLEY CITY, Utah, May 18, 2018 (Gephardt Daily) — A winding chase through West Valley City came to an abrupt end Thursday night when the car being pursued by police sped through the driveway of Granger High School, smashed down two fences, and came to halt just shy of Bangerter Highway.
The chase began at about 10 p.m. and involved the U.S. Marshals Service, and Unified and West Valley City police.
Deputy U.S. Marshal Derryl Spencer told Gephardt Daily that members of his team were patrolling near 3900 South and State Street when they spotted a suspicious vehicle. Officers ran the vehicle's plates and determined the car was stolen.
Marshals attempted a traffic stop, but the suspect vehicle sped off. Police managed to spike three of the vehicle's tires, but not before spiking the tires of one of their own cruisers.
The suspects continued fleeing with a rooster-tail of sparks shooting from the undercarriage of their damaged car.
After a series of twists and turns, the chase ended up at Granger High School, coming to a halt behind the school.
Two suspects — a man and woman — bailed from the car and were captured by police.
Officers say the male suspect was wanted for minor misdemeanors, while the woman had no criminal record.
Spencer said the woman ran from police while carrying a small dog in her arms.
Names of the suspects have yet to be released.
Gephardt Daily will update the story as more information becomes available.