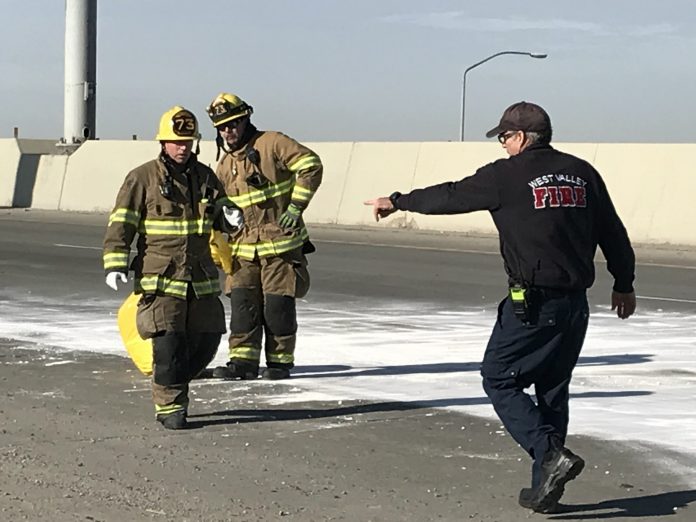 SALT LAKE CITY, Utah, Dec. 19, 2017 (Gephardt Daily) — Officials have reopened State Route 201 at Redwood Road following a HazMat situation Tuesday morning.
SR-201 was closed eastbound and westbound after a container containing formic acid fell from a UPS truck just after 11 a.m., Lt. Todd Royce, spokesman for the Utah Highway Patrol, told Gephardt Daily.
Royce said a small delivery truck was headed eastbound on SR-201, and it appears the back latch was not fastened on the truck and the door opened. A package fell out of the back containing five liters of formic acid, which in its concentrated form is corrosive to the skin.
"It's a very corrosive acid, it's very, very acidic," Royce said. "West Valley City HazMat came out to neutralize that acid on the roadway, they tested that to make sure it was all neutral and we were able to open up traffic and traffic is flowing as normal."
He said formic acid is a scientific grade acid so it can be potentially dangerous.
"Until we knew how much it was we shut down both east and westbound SR-201 until we started to figure out what that was," Royce added. "Whenever you have a HazMat situation you always want to err on the side of caution and back scale it from that. Public safety is the number one, if people kept driving through this it could get into their cars or on their cars, it could create a health problem."
Salt Lake County Health Department was also called to the scene.
SR-201 in both directions reopened just after noon.
It's not known whether the driver of the truck will be facing any citations.