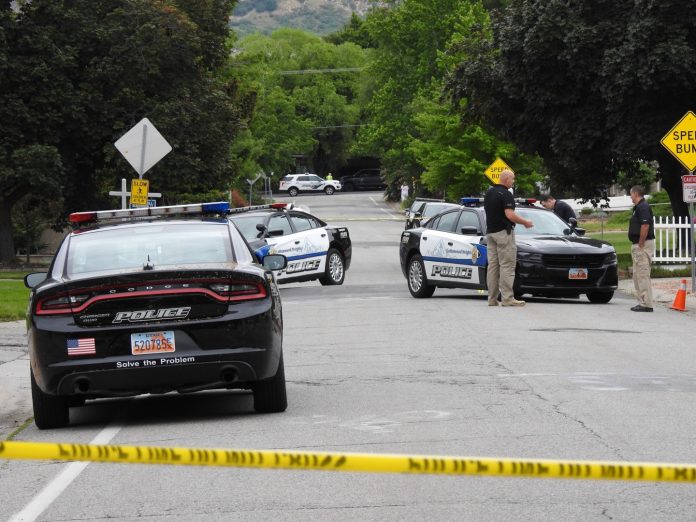 COTTONWOOD HEIGHTS, Utah, Oct. 9, 2018 (Gephardt Daily) — A fatal officer-involved shooting in Cottonwood Heights was deemed justified by the Salt Lake County District Attorney's Office on Tuesday.
Zane Anthony James, 19, was shot and killed May 29 just hours after robbing two supermarkets, in Sandy and Cottonwood Heights.
According to an external investigation conducted by the Salt Lake City Police Department, James was spotted driving his motorcycle through a Cottonwood Heights neighborhood.
Two Cottonwood Heights officers gave chase, and James ultimately crashed the dirt bike after hitting a speed bump near 6675 S. 2200 East.
James immediately jumped up and began to flee from officers, dodging their patrol cars before running across the front yard of a nearby home, the report said.
The two Cottonwood Heights police officers who chased James on foot said they saw him "reaching and digging through his pockets and clothing.
"Officers ordered the driver to stop and show his hands but the driver continued to dig in his pockets and clothing with his hand," the report said.
One of the patrolmen, identified only as Officer Davies, fired two shots, mortally wounding the suspected supermarket robber.
A back-up officer who arrived on scene described seeing "a suspect facedown on the lawn, handcuffed."
She said she saw other "officers looking over the suspect for injuries and one of the officers pulled what looked to be a semi-automatic handgun out of the suspect's left side area." The weapon ultimately turned out to be a BB gun.
Police also say James' pockets were stuffed with cash.
While Officer Davies was not wearing a body-cam, an officer who arrived after the shooting was recording video.
"Where's the gun at?" asked the arriving officer.
"He kept reaching up with his left hand up in that front area," Davies said.
Salt Lake County District Attorney Sim Gill said based on the totality of the evidence presented to date, Davies could likely prove at trial "he believed the use of deadly force was necessary to prevent death or serious injury to the officer or another person."
"In that event," stated Gill, "Utah State law would effectively immunize him from criminal prosecution."
Cottonwood Heights Officer-Involved Shooting