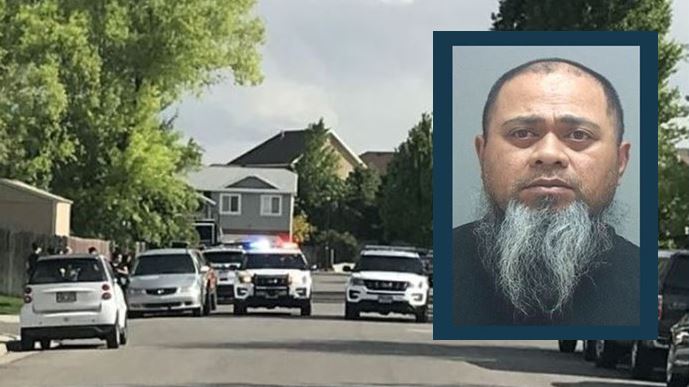 TAYLORSVILLE, Utah, May 22, 2018 (Gephardt Daily) — The massive police response Monday to an armed Taylorsville standoff came after a man argued with his estranged wife about a truck, according to charging documents.
Forty-six-year-old Franklin Asifoa was taken into custody nearly two hours after the first call came to dispatch about a man with a gun who had arrived at a residence at 4155 W. 6550 South.
According to a probable cause statement, it was the man's niece who called police.
"Complainant's uncle arrived at the residence with a gun and was told to take a walk," the statement says.
Unified Police officials arrived at the scene shortly afterward.
"Officers responded and heard at least one shot inside the residence and a possible second shot," the statement says. "UPD SWAT arrived and was able to talk the female out of the residence. UPD detectives conducted an interview with the female, identified as A.V.
"A.V. stated her husband, whom she has been separated from since September, and identified as Frank Asifoa, entered the residence. A.V. stated he started arguing with her about their truck. A.V. stated the argument escalated as Asifoa pulled out a gun and started pointing at her during the argument."
A.V. told officers she went into the bathroom and tried to talk her estranged husband into giving up the pistol.
"A.V. stated moments later, he fired one shot into the television set in the master bedroom," the probable cause statement says.
"(A.V.) stated she was able to talk to Asifoa and get the pistol away from him, at which point she exited the residence and met the UPD officers outside."
Salt Lake County Sheriff Rosie Rivera talked to media at the scene about negotiations, saying Asifoa was talked into giving himself up on the condition that be given mental health counseling. The help was promised, and Asifoa surrendered to SWAT teams.
"SWAT conducted announcements over a PA system and were able to take Asifoa into custody without incident."
Asifoa was booked into jail on the following charges:
Aggravated assault, a third-degree felony
Discharge of a firearm, a third-degree felony
Criminal mischief, a class-B misdemeanor