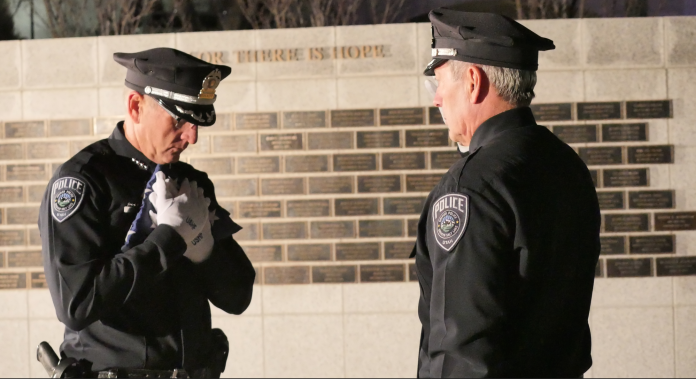 (UPDATED 1/25/ 16 … THIS IS THE FUNERAL PROCESSION ROUTE FOR FALLEN UNIFIED POLICE OFFICER DOUG BARNEY … THE ORIGINAL ARTICLE IS BELOW)
OREM, Utah, Jan. 22, 2016 (Gephardt Daily) — The Orem Police Department has released a map of the procession route for fallen Unified Police Officer Doug Barney's funeral Monday.
A public funeral has been set for 11 a.m. Monday at the Maverik Center, 3200 Decker Lake Drive, West Valley City. The venue can accommodate thousands of guests. The map shows the procession route through Orem, beginning with the 1600 North exit from Interstate 15, along 1600 North to 800 East. Barney's funeral will be held in Orem.
A second map released Friday shows alternate routes along 2000 North, 1200 North and 800 North.
Orem Police wrote on its Facebook page Friday morning: "Here is a map of the procession route for Officer Barney on Monday. We anticipate the lead cars to be coming into Orem sometime around 2 p.m. to 3 p.m. This can change depending on how long the services last and how long the procession ends up being.
"If you would like a real time updates on the location of the procession on Monday please follow us (OremDPS) on Twitter as I will be posting updates there .
"This is going to have a large effect on Orem traffic in the north end of the city. Please be patient and plan for an alternate route. We will do our very best to make this go as smooth as possible but you can help too. The best way is to share this information with anyone that might be traveling through the city at that time and for them to plan accordingly.
"Thanks for your help and understanding. I know the Barney family and Unified Police Department are thankful for everyone's support during the hard time. Please share!"
Barney died Sunday after being shot in the head by suspect Cory Lee Henderson, who reportedly walked away from a Holladay auto accident Barney had arrived to investigate at 9:51 a.m. Sunday. Barney was pronounced dead at 1:12 p.m. the same day.
UPD officer Jon Richey was also shot by Henderson in the incident, and was hospitalized in serious condition. Richey was able to leave the hospital, on foot, on Tuesday. He is now recovering at home.
The suspect, Henderson, was fatally shot at the scene.
The Unified Police Department has recommended benefit accounts for use by anyone who would care to donate funds to the Barney or Richey families. Both accounts are at America First Credit Union, and they are under the names Doug Barney Memorial Account and Jon Richey Charitable Account. To contact the credit union, call 800-999-3961.