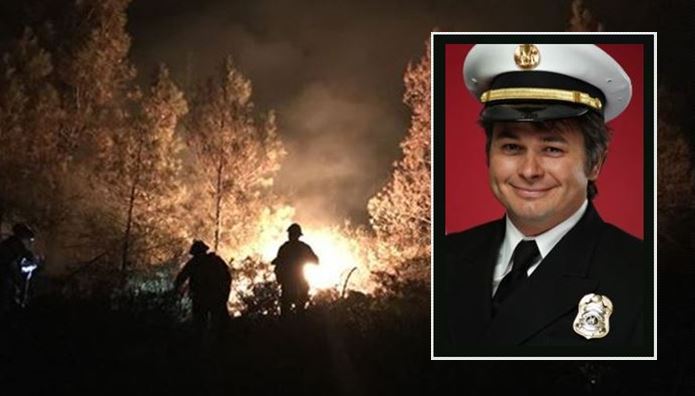 For an updated story, click here.
DRAPER, Utah, Aug. 14. 2018 (Gephardt Daily) — Draper Mayor Troy K. Walker has released the name of the firefighter killed in the line of Duty on Monday while battling wildfires in northern California.
Officials have identified the victim as 42-year-old Battalion Chief Matthew Burchett.
"The entire community of Draper is mourning his loss," said Mayor Troy K. Walker at a Tuesday morning. Burchett left behind a wife and son, he said.
"As you can imagine, our hearts are heavy as we digest this tragic news. Last night, we lost one of our Draper firefighters, a true hero. He was fighting the California wildfires and protecting life and property."
Walker described Burchett as a man who was well trained for his job and very professional. He was a great man with a dry wit.
"He was a master of his craft."
Draper City spokeswoman Maridene Alexander wrote on Twitter earlier on Tuesday.
"Our hearts are breaking as we announce the loss of one of Draper City's firefighters in the Mendocino Fire last night," he wrote. "Words cannot explain how it feels to lose a true hero."
Monday night, Chief Sean Kavanaugh, an incident commander in northern California, revealed the Draper firefighter was working on an "active portion of the fire" when he was injured. He was airlifted to a local hospital, where he died a short while later.
"We are extremely heartbroken by this loss," Kavanaugh said. "We are dedicated to investigating what happened and will release more information as it becomes available. We mourn as we also battle California's largest wildfire, which continues to burn in extremely steep and remote terrain."
The Mendocino Complex formed when the Ranch and River fires burned together, creating the biggest, most costly wildfire in California history. Since starting July 27, the fires have burned more than 328,000 acres and destroyed 139 homes.
Mendocino County Sheriff Tom Almond also offered his community's condolences on Monday's loss. He said the tragedy should remind locals just how dangerous the fire still is with just 67 percent containment.
"If this could happen to a firefighter, it could certainly happen to citizens," Almond said.
"To the men and women who have circled us today and the hundreds of firefighters I have seen everyday — we thank you. We thank you for coming to our small corner of the world, risking your life, being away from your family."
"Today, tomorrow, next year we will mourn the loss of a new hero," Almond said.
Forty Utah firefighters from seven agencies around the state caravanned to California in early August, the third year in a row Utah fire crews have answered the Golden State's call for help with its massive wildfires.