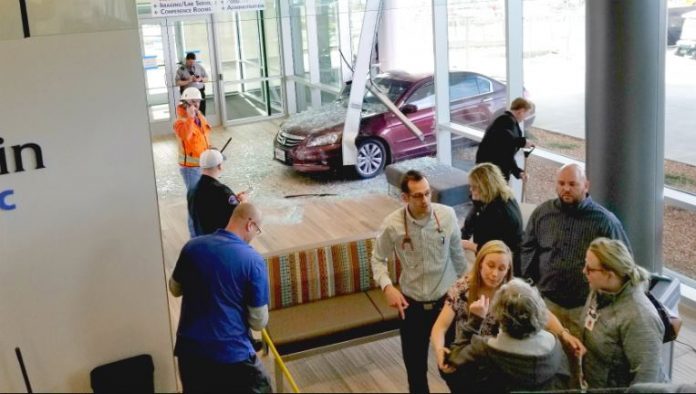 SANDY, Utah, March 16, 2018 (Gephardt Daily) — An 80-year-old woman trying to park her car outside Alta View Clinic instead crashed through the new building's glass wall on Friday afternoon.
Glass flew everywhere, but no one was injured in the accident, which happened at 1:48 p.m., according to Sgt. Jason Nielsen, Sandy City Police Department.
The woman told officials that her Honda sedan bumped into the curb, and that's when a floor mat slid under the gas pedal, causing the car to accelerate, Nielsen said. The car stopped halfway into the lobby area.
Neither the woman or her passenger were hurt, and no injuries were reported from inside the building.
Nielsen said the investigation into what caused the accident is ongoing.
Intermountain Healthcare's Alta View Clinic, at 9450 South and 1300 East, is a new facility that held its grand opening on Dec. 7. The cost of repairing the damages has not yet been estimated.