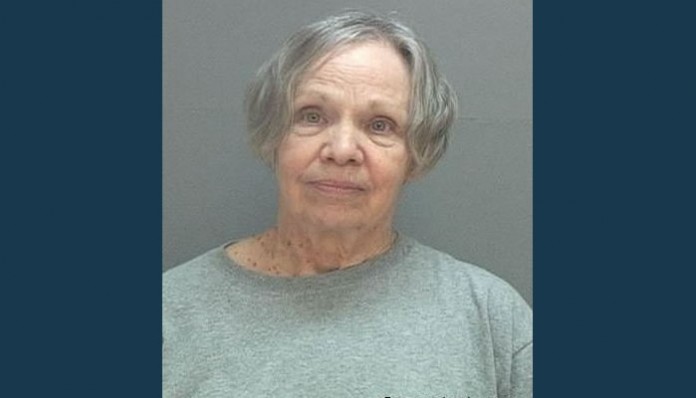 SALT LAKE CITY, Utah, Sept. 18, 2018 (Gephardt Daily/CBS) — With just one day to go until the release of Wanda Eileen Barzee, Elizabeth Smart spoke with Gayle King on "CBS This Morning" Tuesday about her co-kidnapper.
Barzee, now 72, was denied parole in July. Speaking on the steps of the Utah State Capitol Thursday afternoon, Smart said she was told at that time that Barzee would be released in 2024.
Smart told King learning the news has triggered a myriad of emotions.
"It's been a rollercoaster of emotion, of worry, of wondering what's going to happen…" Smart told CBS. "But I think at the end of it, what I've just come to… is that I really have spent the last 15 years of my life trying to move forward and trying to follow my mom's advice that she gave me the day after I was rescued, in not allowing these people to steal any more of my life away from me… But am I concerned? Yeah, I am very concerned – for the community, for the public, as much as I am for myself."
Smart described how as soon as she met Barzee after being kidnapped by Brian David Mitchell in 2003, she felt a dark feeling radiated from the older woman.
"It just was dark," Smart said. "And it was evil. And I just knew that she — she wasn't there to help me, that she wasn't there to protect me."
At the news conference in Salt Lake City, Smart urged the parole board to "strongly reconsider" the situation because she still believes Barzee is a threat. King asked her specifically what she thinks Barzee might do.
"I don't know," Smart responded. "And perhaps that's what worries me, because I know just how bad she really can be. She would encourage him to rape me. She would sit right next to me. Like, the side of her body would be touching me. While he was raping me. I mean, she was right there. So, I mean, she — there were no secrets. She knew what was going on. And, I mean, she just was the kind of woman that — she was just evil and twisted. … And I remember — remember when they used to force me to — to drink alcohol. And one time they had me drink so much — I was a 14-year-old girl, I'd never touched alcohol in my life — that I ended up throwing up and then passing out in it. And both of them just let me lie there all night. And when I woke up the next morning, I mean, my face and my hair were completely crusted to the ground. And they both laughed. She laughed. She laughed just as much as he did, if not more."
Smart discussed what she knows about the conditions of Barzee's release.
"I don't know all the conditions of her release, but I have been reassured multiple times that she will be kept a very close eye on," she said. "And as soon as she messes up, which I've been reassured that she will, she will be taken back to federal prison for the duration of the five years."
She also spoke about what she has heard Barzee has been doing in prison- assertions that CBS said they have been unable to confirm.
"Through my sources, I've heard that she's still carrying around this 'book of revelations' that Brian Mitchell wrote… that said he should kidnap me, and not just kidnap me but six other young girls, and that we'd all be his wives… clearly, she hasn't let it go," Smart told King.
Smart described how she decided to share her story in the hopes that it would help others.
"For years after I was rescued, I didn't want anyone to know what had happened. … Truthfully, I think I was ashamed and I was embarrassed," Smart said. "I didn't want people to know that I'd been raped. … I think I got to a point where I just felt, like, "This is not okay. … No survivor should feel like they have to hide what happened to them. … And so if I, like, need to be the girl who's known for being kidnapped and raped, then so be it. If it's gonna help promote change and if it's gonna help other survivors move forward with their lives and not feel ashamed of what's happened? Fine. I'll do it."
The Utah Board of Pardons and Parole said back on July 2 that Barzee would be granted a rehearing in January 2023, after the parole denial. Her sentence was due to expire one year later, in 2024.
According to a news release sent by Greg Johnson, director of administrative services for the Utah Board of Pardons and Parole, the early release date stems from an issue during Barzee's parole hearing in June, which she refused to attend.
"At Ms. Barzee's parole hearing June 12, 2018 the Utah Board of Pardons and Parole (Board) did not give credit toward the Utah sentence for time served in federal prison," the news release said.
The news release goes on to say that at the June hearing that "Ms. Barzee's attorney contended that Ms. Barzee's federal sentence should run concurrently with her state sentence and therefore the Board had miscalculated the end of Ms. Barzee's state sentence….based on further review and advice from legal counsel, the Board must count the time in federal prison as credit to the Utah sentence and therefore Ms. Barzee's sentence ends on Sept. 19, 2018."
Barzee pleaded guilty in 2009 to kidnapping and unlawful transportation of a minor in connection with Smart's abduction. Barzee was sentenced in 2010 to 15 years in federal prison, but got credit as part of a plea bargain for the seven years she'd already spent behind bars in both the Utah State Hospital and Salt Lake County Jail.
At the time Barzee was sentenced, she was also ordered to serve one to 15 years in the Utah State Prison for state kidnapping charges in the Smart case.
She was transported back to the Utah State Prison in April 2016 after completing her federal prison term in Texas.
In 2002, Brian David Mitchell, Barzee's then-husband, snatched the then 14-year-old Smart out of her bed. The couple held the teen captive for nine months.
Mitchell, now 64, was convicted in 2010 of aggravated kidnapping and illegally transporting a minor across state lines for sexual purposes. He is serving a life sentence in a federal prison in Arizona.
Smart is now 30 years old, and lives in Park City with her husband and their two young children. She announced on Instagram that she is expecting her third child in November. She works as a victim's advocate, and speaks widely on the topic.
She and her husband met while each served a France-Paris mission for The Church of Jesus Christ of Latter-day Saints. Earlier this year, she was nominated for a Daytime Emmy for her work as a special correspondent on "Crime Watch Daily." She also runs a foundation dedicated to helping kidnap victims and their recovery.
For CBS This Morning's full interview with Smart click here.