Families Of Bear Lake Boating Victims Release Statement
RICH COUNTY, UTAH – June 2, 2015 (Gephardt Daily)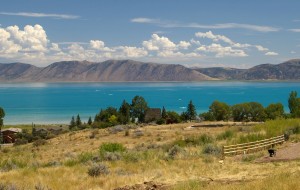 Communities across the state of Utah were in mourning Wednesday night, as they come to grips with the tragic boating deaths of three young girls and the doctor who perished to trying to save them.
Pleasant View physician, Dr. Lance Capener, 45, daughters Kiley and Kelsey, ages seven and 13, and family friend, Siera Hadley, age 13, of Harrisville, Utah died after the speed boat they were in capsized during a fierce wind storm Tuesday afternoon on Bear Lake.
Capener's wife Kathy survived, as did two 14-year old family friends, Tylinn Tilley and Tiffany Stoker. All three were taken to Logan Regional Hospital where they were being treated for hypothermia.
Wednesday night, Kathy Capener released a statement from the hospital on behalf of the victims' families.
[one_fourth]
[/one_fourth][three_fourth_last]
Capener and Stockdale Family Statement
(Logan, UT) June 2, 2015. On the evening of the June 1 search, during a boating outing on Bear Lake, wind storms and waves caused our boat to capsize. During the search and rescue efforts, while everyone was doing their best to convey what information they heard, the search and rescue crew was focused on the task that really mattered at the time: finding the lost individuals. However, that means we cannot offer any details for certain about what occurred at Bear Lake during the storm or what occured during the search and rescue.We respectfully request that you direct any questions about the events to the Rich County Sheriff's Department.
What we know now is that, as we are heartbroken over the loss of our beloved Lance Capener, a local physician, our bubbly and loving Kelsey (13, and our sweet, angelic Kilee (7). We are also heartbroken about the loss of one family's dear friends and our love goes out to that family.
We are grateful to the rescuers, the first responders, the transport teams, and the medical staffs that have been involved with helping all efforts during this ordeal. These men and women have shown tremendous skill and compassion. We are overwhelmed by the outpouring of love and support that has been shown by ward members, friends, neighbors and coworkers.  
At this time, we request that the media respect our privacy and allow us the time and space needed to grieve and comfort each other through this ordeal. Thank you. 
(DEVELOPING)