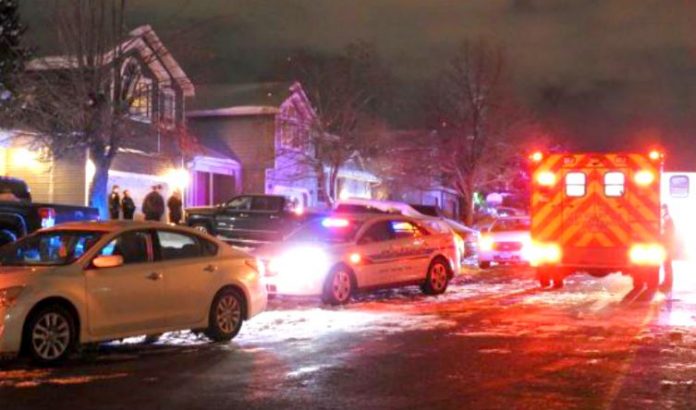 To see an updated story, click here.
WEST VALLEY CITY, Utah, Feb. 25, 2018 (Gephardt Daily) — West Valley City Police  assisting in the investigation of an infant's death Saturday night were met with resistance from the baby's family.
Officers from surrounding agencies were called in to quell the emotionally charged, potentially chaotic, situation.
WVCPD Lt. Amy Maurer told Gephardt Daily, "We were given information from a local hospital that there was a death investigation involving an infant, and the family resides in West Valley. We were asked to come help with the investigation."
The baby was only a few months old and reportedly had been taken to the hospital by family members earlier Saturday. The homeowner was heard saying the infant was his grandson.
Officers arrived at the family's home on West Sussex Place around 9:30 p.m.
"They immediately were confronted with verbal noncompliance from a couple people in the home," Maurer said.
She said officers attempted to get information from the family, but the residents continued to be argumentative.
At that point "an officer used pepper spray and gained control of one of the verbal occupants."
That's when a couple of other people in the house decided to get involved, and a physical fight ensued.
The officers requested assistance, and police from other departments responded to the scene to help bring things under control.
"Emotions were running high," Maurer said.
Even with the arrival of additional officers, it took awhile for everyone to calm down, and there were still some angry words from the homeowner as police were leaving.
West Valley police detained one person as a result of the physical altercation. That suspect was later identified as 26-year-old Tevin Evans, who has been booked into jail on aggravated assault charges.
Maurer said five or six people had been in the house.
Maurer explained that the hospital calling the police is part of the normal protocol in a death investigation. The officers were assigned to get necessary information from the family.
When the call for assistance went out, officers from Draper, South Salt Lake, Murray, South Jordan and West Jordan responded.
"An officer in distress call brings everyone out," Maurer said.
The investigation into the infant's death is still underway, and no further details were available Saturday night.
Gephardt Daily will update this story as more information is released.