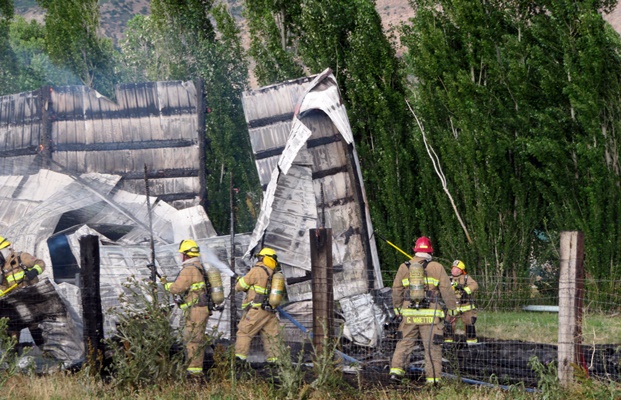 HARRISVILLE, Utah, July 13, 2019 (Gephardt Daily) —  Firefighters from four departments, along with Harrisville Police, responded to a structure fire Saturday on Harrisville Road that kept crews busy for two and a half hours and sent smoke into surrounding neighborhoods.
The fire, in a large metal barn in the 800 block of North Harrisville Road, was called in by neighbors at 6:28 p.m. Saturday.
Crews from Weber Fire District, North View Fire District, and Ogden and Roy fire departments battled the flames that brought down most of the structure until virtually nothing was left except charred metal and smoldering rubble.
Ryan Barker, fire marshal with North View Fire District, told Gephardt Daily about 25 firefighters were on scene as the barn, which had recently been filled with a delivery of hay, sent flames and smoke into the air.
Barker said the barn was fully engulfed when crews arrived, and they attacked it quickly.
The wind and the limited access made their job difficult, but the crews worked diligently to contain the blaze and keep it from sparking the dry grass in surrounding fields or spreading to the garage or home to the north.
Barker said the owners of the property were away on Saturday, but returned after word of the fire reached them. Worried neighbors tried calling them multiple times, and one woman took it upon herself to check on the family's horses, which were safe in a distant field.
No one was injured as a result of the fire.
Barker said the cause of the fire isn't yet known, but officials don't think it was suspicious.
One of the neighbors told Gephardt Daily that police said an eyewitness who was working across the field at Deseret Industries saw lightning strike the barn.
Barker said fire crews were at the scene until about 9 p.m., checking for hot spots and cleaning up the area.
He estimated that the fire caused $50,000 to $100,000 in damage.